Engagement
Before launching into a competitive market, Basis needed to develop a distinct product and visual language as well as a way to translate user data into an engaging online experience. Given the quick timeline required to keep the startup on track from launch to market, Method collaborated with the Basis team to develop and extend a new brand identity and digital experience that would serve for the launch and into the future. While the current Basis product is focused on the band and online interface, we knew that we needed to consider future growth, including different color options, accessories, and upcoming releases. Additional consideration was given for how the brand would extend to the device through the on-screen user interface, color, and iconography.
Process
Method quickly identified Basis's opportunity to become the prominent model for continual wellness monitoring. By focusing on wellness, Basis is able to create a positive and affirming feeling around use by collecting a consistent stream of data. Unlike other devices on the market designed to track activities and health, which can be seen as event-specific or crisis-based, wellness represents a continuum of sense and balance, with the key understanding that the power of the data is in uncovering patterns and trends over time.
This concept of wellness inspired an elegant visual system reflective of Basis's sophisticated technology, while still feeling human-centric and social. An earthy color palette further identifies the brand as warm and approachable.
Working with the Basis team, Method created a flexible and extensible visual system that could adapt as Basis grew and responded to market demand. We developed a variety of packaging extensions, as well as concepts for a dashboard tracking platform. We also explored concepts for a naming and taxonomy system that could scale with the company and its expanding product line.
With the wealth of data being tracked, the ability to communicate it in a clear and meaningful was a key belief guiding Method in the design process. Basis users needed to understand the data they were collecting and view it as emotional and relevant to their daily lives. It is the job of the Basis interface to interpret large volumes of data into familiar patterns, which correlate to specific behaviors and produce an expected reward. It's this cycle that reinforces active and ongoing engagement with the Basis system.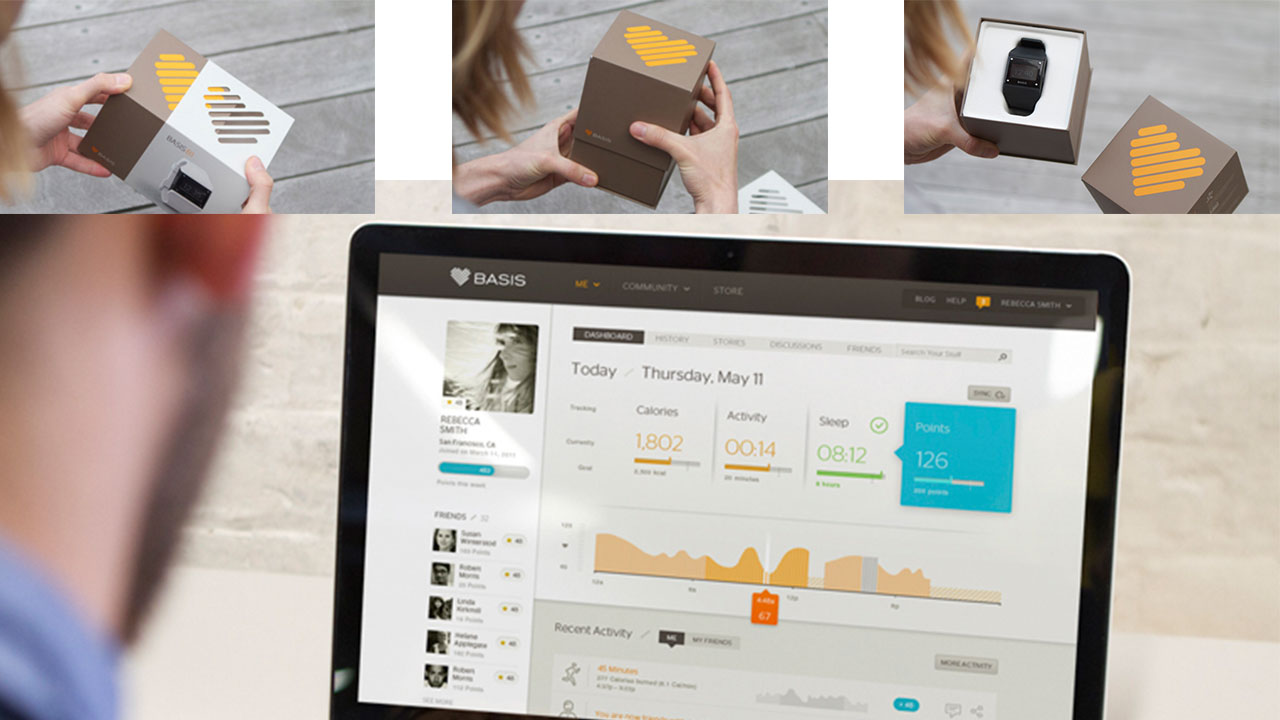 Outcomes
Method created a brand identity, visual language, and concepts for an online experience that has scaled to meet Basis's growing and diverse needs as they prepared to release the first offering.
The company launched to incredible success, selling out within the first 24 hours, heralded as revolutionary and game-changing by major media outlets. Basis received extensive press coverage at CES and SXSW Interactive, including the honor of being named a Finalist in the 2013 CNET Best of CES Awards. The product also won an Honorable Mention at the International Design Awards.
With plans to incorporate auto-syncing, automatic download, and a reward system to engage the community, Basis is well positioned to lead in the wellness space.