Insight categories:
Digital Transformation
Insights
IoT
Mobility
Security
Healthcare
Telemedicine and telehealth have been around for decades, but patients continued to visit doctors' offices instead of just having a video conferencing. And although some patients preferred virtual visits, providers were afraid that it wasn't reliable and were reluctant to adopt this approach. Also, the technology was simply not widespread enough to attract many people.
COVID-19 has changed the outlook of telehealth. The pandemic has accelerated the digitalization of patient engagement and has led to a massive increase in virtual healthcare delivery (e.g., telemedicine, remote patient monitoring, mHealth applications).
Between January 1 and August 31, 2020, Gartner saw more than a 300% increase in virtual care inquiry volume when compared to the same period in 2019. According to McKinsey, with over 70% of in-person visits cancelled during the pandemic, 76% of patients responded they are very likely to use telehealth going forward.
Let's look at the patient experience "pre-COVID-19" and "post-COVID-19." Across all the steps of a digital patient engagement lifecycle, we see how the standard processes are "virtualizing" via telehealth using mHealth applications, chatbots, online portals, and so on.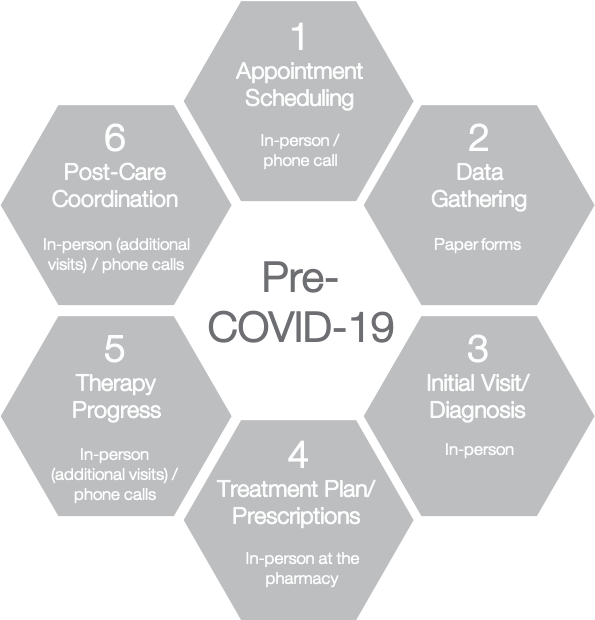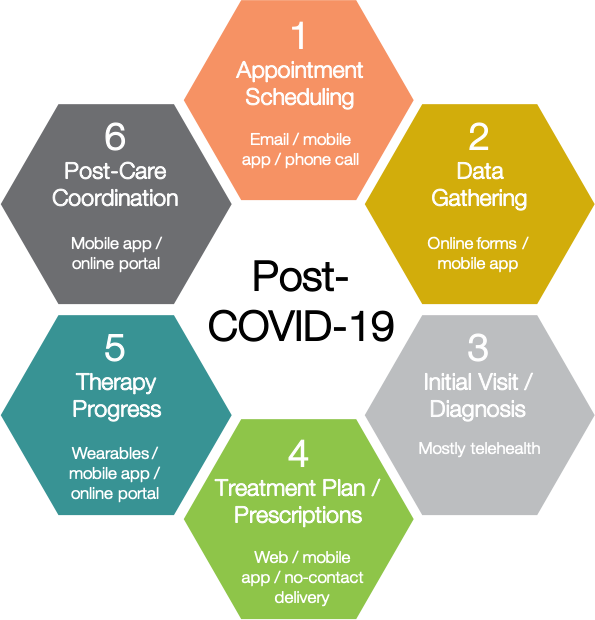 As you have heard countless times, the coronavirus pandemic has created a "new normal." Healthcare providers, academic institutions, and IT service providers are extending their existing solutions and creating new ones to enable new capabilities and reduce the demand on health delivery organizations.
Benefits for Patients
With telehealth in place, patients will be able to receive high-quality healthcare much faster, as they won't need to wait days before they get to their physician and then spend a lot of time in overcrowded clinics. Telehealth will especially benefit rural residents, elderly patients, and people with disabilities who have difficulties getting to the hospital; now they will be able to reach their physicians online and get quality support.
Critical health patients will get a lot of benefits, too. Telehealth can help physicians assess whether a patient requires immediate attention, preventing unnecessary visits and improving care for those with more urgent needs. At the same time, healthcare workers can use remote patient monitoring to allow stabilized patients to leave the hospital faster without compromising treatment.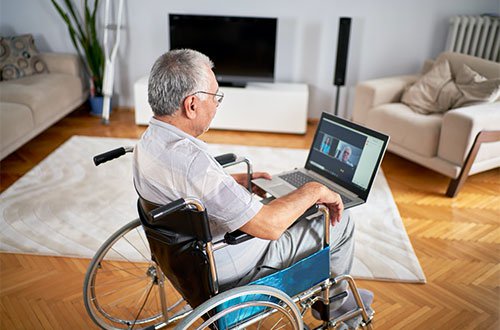 Benefits for Healthcare Providers and Payers
Ineffective healthcare methods cost the healthcare system billions of dollars annually, which increases treatment costs for patients. Telehealth can reduce unnecessary costs and recover lost profits by making certain processes more convenient and efficient. According to America's Health Insurance Plans (AHIP), "telehealth could help save the United States as much as $4.28 billion on health care spending per year." Reaching a wider audience and providing new offerings can also create new revenue streams.
Telehealth can reduce hospital readmissions and unnecessary emergency department visits. It can also facilitate ongoing care for discharged patients, deliver preventative care, and improve patient no-show rates. For example, healthcare providers can use live videoconferencing to monitor patients after discharge within the required timeframe, especially within the critical 30-day post-discharge period.
Security and Privacy Concerns
As healthcare providers scramble to meet the accelerated demand for telemedicine solutions during COVID-19, privacy and security requirements have unfortunately become more relaxed. Healthcare organizations have been in survival mode, turning to free online communication platforms that are not HIPAA-compliant. This can lead to unsecure patient visits, wrong patient visits, etc. Therefore, healthcare organizations should assess the risks and how to handle them. Doctors working from home should also be aware of who can hear them during telehealth visits or see their screens.
When it comes to security issues, healthcare IT and security teams are the ones who are responsible for the safety of patients and healthcare teams. To address privacy concerns, healthcare providers are looking into access control tools such as multi-factor authentication solutions, as this approach can help better protect people who access data through patient portals. In addition, security teams must take additional steps to properly educate their healthcare providers on cybersecurity and potential threats associated with telehealth. The healthcare team can then share this security information with patients so that they feel more comfortable with the new process and have confidence in the security of their data.
Conclusion
Telehealth has shown great potential and proven its ability to provide timely and safe care during the COVID-19 pandemic. It has also demonstrated various benefits, like healthcare costs reduction and increased convenience and access to care for vulnerable patients. It also enables continuity of care support for patients with chronic conditions at a distance. And after the pandemic is ended, telehealth will still play a vital role in moving towards value-based care.
References:
https://www.mckinsey.com/industries/healthcare-systems-and-services/our-insights/telehealth-a-quarter-trillion-dollar-post-covid-19-reality