✓ Connecting Knowledge Management and Jira Service Management
✓ in 4 simple steps
✓ Advantages
With Jira Service Management, the new service desk, it is possible for your company to offer customers a knowledge database for frequently arising questions. Confluence in particular lends itself as a tool for this purpose.
How can a ticket system and a knowledge database be linked?
Let's find out together in 4 simple steps how to save your team time and improve the customer experience at the same time.
Step 1: get started with one click
If you already have Confluence, easily create a new knowledge space and then link it to Service Management.
Step 2: create knowledge articles directly from Jira Service Management.
Your service desk agents deal with a wide variety of questions from a wide variety of customers every day, so they already know most of the answers by heart. Wouldn't it be more convenient for everyone if your customers had the opportunity to help themselves, especially with frequently occurring questions? That's exactly what a knowledge base linked to Jira Service Management is made for. Create a win-win situation for both sides: the service agent by relieving him of work so he can focus on the really important cases, and the customer by offering self-help.
Work as closely as possible with your service agents and start with the most frequently asked questions. Thanks to the built-in service documentation and the knowledge of your IT service agents, you have the ability to quickly and easily offer self-help.
Step 3: Confluence integration
In the Confluence knowledge base, your team organizes all frequently asked questions and documentation about customers (or employees). It also serves as a private, collaborative workspace where your team can share best practices and institutional knowledge.
Step 4: View relevant articles
Once you've connected your knowledge base, customers will automatically see recommended articles when they enter their questions into Jira Service Management. They don't need to be retrained to search for knowledge base articles in Confluence. As before, you simply go to your Service Desk portal (which is now Jira Service Management, of course) and start typing. The built-in knowledge base intelligently recommends the right service and learns from every interaction, so answers are easy to find.Service center homepage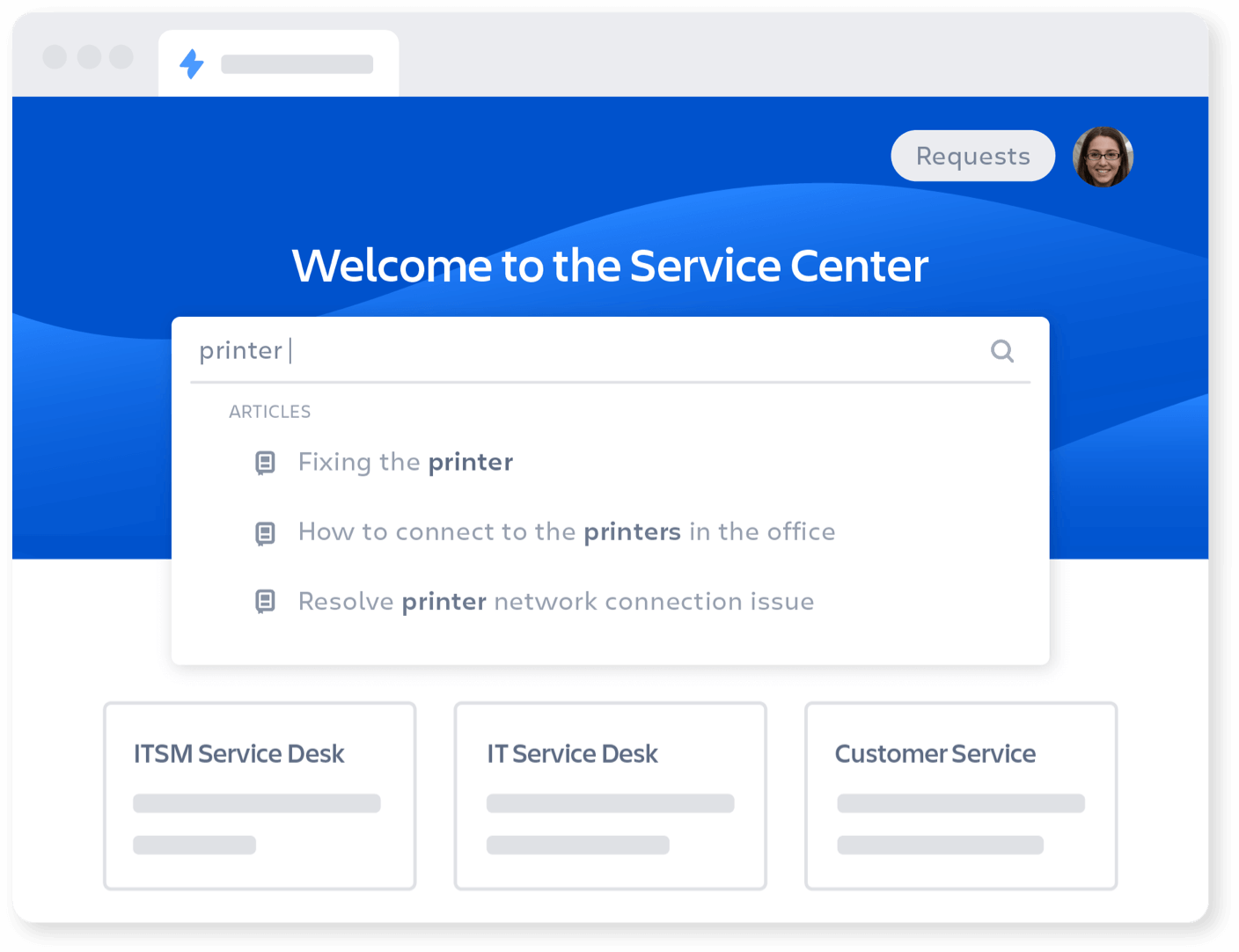 Step 5: Improve customer service
It's now a breeze for customers to find simple answers to the most common questions, but just how helpful are they? Jira Service Management gives you insights here, too. Thanks to the thumbs-up and thumbs-down feature, customers can indicate how helpful they found the article they read. Thanks to the requests reports, you can quickly and easily find out how your customers and users react to the knowledge base articles, and thanks to the evaluation graph, you can see more details about the usage of the knowledge articles.Graph of requests resolved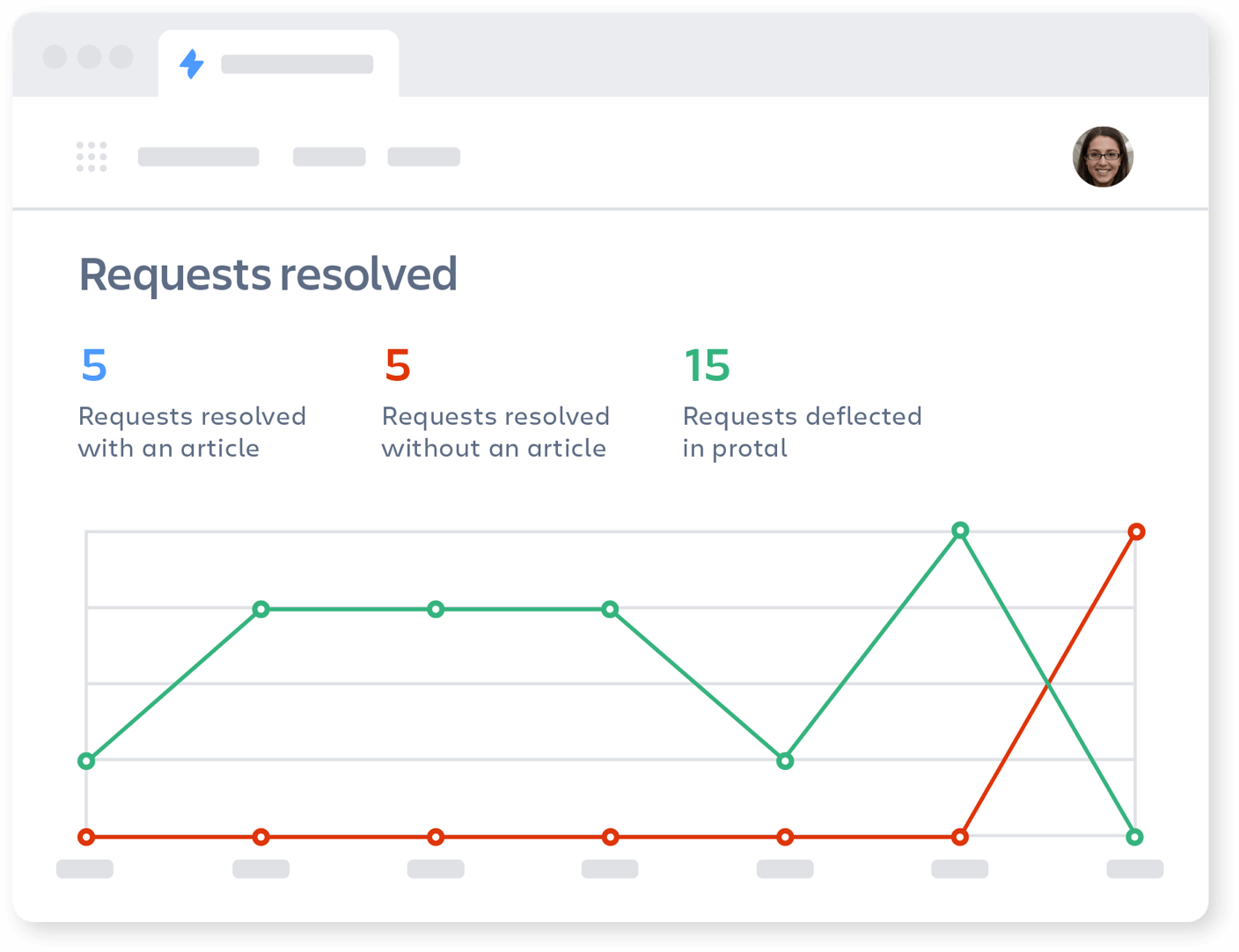 What are the benefits?
With Confluence and Jira Service Management, IT teams can deliver great service experiences through seamless integration. Your team will save time and while improving the customer experience. Quickly find what you need to resolve tickets with a knowledge base, communicate about resolved incidents, and track changes with pre-built ITSM templates. So collaborate with your team on approved pages and make clear decisions. You'll be presented with exactly the information your customers or employees need to quickly resolve their issue. Everyone is armed with all the insights from previous work, and customers get standardized answers that the entire team has reviewed. This way, no one is starting from scratch because everyone is at the same level of knowledge.