We have entered a new era of how television content is created, delivered, and even defined. The digitalization of papers, the evolution of streaming media, an explosion of mass content creation, and on-demand access to various content are among the factors driving this transformation. 
What's next in the future of television? 
And for businesses in media and entertainment, a more pressing question looms: will this evolution drive growth, or will the television market become stagnant?
The TV landscape has changed dramatically over the last decade. From DVRs to streaming services, the way we watch TV has significantly changed. As new technologies emerge, they often disrupt existing industries. We can see this demonstrated in the rise of streaming services such as Netflix, Hulu, Amazon Prime Video, and HBO Max, which meant that consumers no longer needed cable to watch their favorite shows. 
This shift has led to increased competition between companies that produce original programming. As a result, networks are looking to adapt to meet viewer demands. Let's examine how television has evolved over time and what companies need to focus on next to meet consumer demands.
Television's Past
In 1926, Japan developed the first working example of a fully electronic television receiver, a system that employed a cathode ray tube (CRT) display with just 40-line resolution scan lines. Now, try to compare this 40-line resolution to 4320 pixels (separate dots) of vertical resolution (forming the total image dimensions of 7680×4320). This will give you a rough but vivid comparison between the first TV and the current highest "ultra-high definition" television (UHDTV) resolution used in digital television and digital cinematography (8K UHD).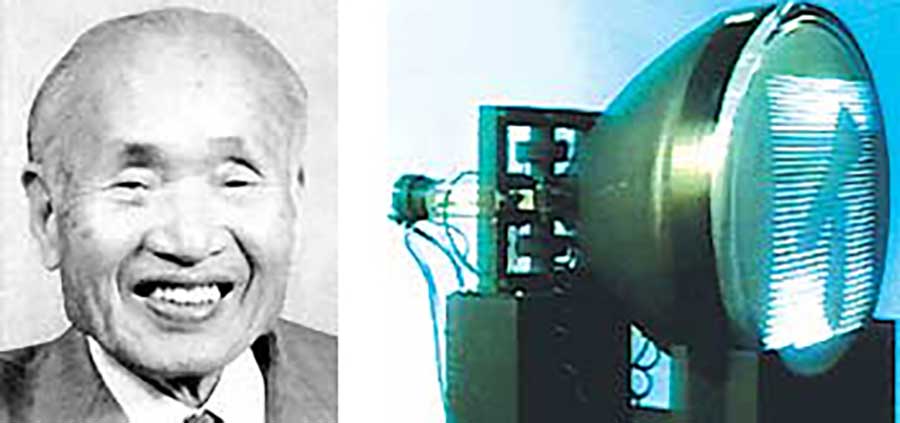 Kenjiro Takayanagi transmitted the picture of a Japanese katakana character comprised of 40 scan lines.
A lack of respective available content is why UHD TVs are mostly just interesting tech rather than everyday devices in our living rooms. But with Netflix, Amazon, Hulu, and many other services now offering 4K streaming – and Comcast,  Verizon, and Virgin all ramping up 4K sports and movies for their platforms – that excuse is firmly vanishing.
Still, let's be honest. We're reaching a point when it's hard or even impossible for the human eye to see the difference in resolutions, which is why manufacturers will shift their focus toward image quality (e.g., color scheme and black levels). For example, I am using the HDR feature on my phone to edit pictures. It's a method of obtaining more significant variance in contrast and color. This high dynamic range technology is becoming essential for modern TVs.
Television's Present
Recent studies show that more people across age groups are moving away from traditional cable TV. On average, families can save money by selecting a couple of popular streaming services over standard cable, and they don't have to deal with contracts and enjoy ad-free viewing. It's no wonder people are moving away from cable TV.
The media industry is progressing and transforming significantly. The growing number of "cord cutters" and emerging group of "cord nevers" just confirms this trend.
The latest trends also show that TV is slowly but steadily merging with social media. I'm not talking about Facebook pages for TV channels or comments on live shows, but social channels partnering with major media industry incumbents to host video content on their platforms. We see more news streams on Twitter, Facebook, and other platforms, and Facebook even invests and pays for creating unique live video content. At the same time, Google is launching a streaming bundle of channels under the YouTube umbrella.
These blurred boundaries aren't just on social media. While the traditional media industry still seems to be robust, the disruption created by new online digital video services is massive. Cable networks, telecom operators, and traditional content producers are all trying to rethink their current business models and find solutions to capitalize on modern technology and retain a large user base. 
Even though traditional media industry players provide slightly different ways of consuming entertainment from newer online video services, at the end of the day, all of them are competing for viewers and utilizing the same revenue models (e.g., advertising or subscription).
The widespread deployment of broadband internet access, combined with many connected devices (e.g., tablets, phones, STBs) and their respective software solutions, have given viewers access to high-quality video content anytime and anywhere. This effectively made distribution almost free to the end user. 
According to Statista, US viewers spent an average of 8 hours and 5 minutes on digital media each day in 2021. The impact of digital media is further impacting how users spend their days each year.
There's no need to stick to broadcaster scheduling anymore. Even many traditional broadcasters and providers are distributing their content through OTT software video platforms. Of course, each company differs in its approach to mitigating the current market situation. Some offer smaller channel bundles delivered via their online streaming services, while others try to integrate content production with distribution.
Recommended reading: Best Practices for Managing Video Streaming Platforms
Television's Future
In light of all these new trends and changes, where should media companies focus their attention for innovation and R&D?
1. User Experience
The first and most important aspect is user experience. Users usually don't care about different delivery and consumption technologies. They just look for the best content with an intuitive platform and high-quality resolution.
Many of my friends get frustrated because of all the different devices and remote controls in their living rooms (e.g., STB, Smart TV, Xbox, and Google Chromecast). Similar feelings arise when you jump between dozens of different apps to get your desired content. 
Ideally, there should be a universal search to manage the flood of content and for situations when you know exactly what you want to watch. Users should also be able to channel surf when they want to relax and explore — like the traditional TV experience.
A successful company or service will always put the customer first, but it's also important to go beyond just a momentary user experience. Companies must work on long-term product strategies (i.e., employing new technology and business models) rather than simply working on current products and trying to get the most out of existing revenue models. This will allow them to better personalize their offerings, deliver differentiated value, and ultimately gain new users and retain existing customers.
2. Data
The second important aspect to focus on is data in content distribution and advertisement. Businesses shouldn't underestimate user data. Relevant content distribution and targeted advertisement are based on user data and machine learning capabilities. 
Companies that utilize this wisely can provide a better user experience and boost their business, thus gaining a tremendous competitive advantage in the market. I think big data and analytics offer a good opportunity for OTT providers. Growing a user base from both "cord cutters" and "cord nevers" will lead to increased customer data, which can positively impact revenue through improved analytics and targeting.
3. Content
The final important element is content. It has always been and will remain a key part of the media industry. TV services that provide as much original content as possible will succeed (although this does not always imply producing their own movies). 
I should note that there is a high probability that the role of super aggregators will be occupied not by industry-relevant TV and video services providers but by companies like Google or Facebook. One interesting peculiarity that can contribute here is the growing amount of amateur content. Many children and young adults subscribe to at least one amateur YouTube channel, Instagram creator, or vlog. Even though most creators make this content on their smartphones or GoPro cameras, it's still attracting millions of viewers.
On the other hand, content is something that can impede the media industry's progress. Even when all necessary technology solutions are in place, media companies can struggle with commercial deals to get content into their systems. Rights-holders often restrict various aspects of content delivery to a particular channel or service, country, or date interval. This significantly affects the user experience, forcing us to jump from app to app, although I think such restrictions are part of an old-school approach to media and won't change anytime soon.
Recommended reading: Digital Rights Management in the OTT Ecosystem
The Future of Television is Still Bright 
In this environment where digital technologies are rapidly changing the media landscape, it is crucial to understand how consumers' behavior is trending in order to develop effective strategies for reaching them.
Our goal is to provide insights into what drives consumer decisions and behaviors and how they interact with each other and help provide solutions to meet consumer demands. We help media and entertainment companies including OTT brands, broadcasters, studios, and ad tech providers design and develop innovative, next-gen solutions and platforms that captivate audiences and generate revenue. Check out our Media Software Development Solutions & Services to learn more.
Keep Reading: