Content Engineering
Modern products thrive on customized content and data. Our teams accelerate content enrichment, data analytics and Machine Learning-led model training.
GlobalLogic provides customers with end-to-end content engineering services to support their content journey, turning raw data into actionable insights. We help businesses manage their content ecosystems through automated solutions and real-time moderation teams.
With over a decade of experience and a globally distributed team of content experts, we partner with some of the largest businesses in the world — from med-tech and hi-tech pioneers, to automotive and fleet management companies — to develop insightful content and data solutions based on artificial intelligence and machine learning technologies.
Our Offerings
Machine Learning
We train machines to turn algorithms and labeled datasets into actionable insights to drive revenue and growth opportunities for businesses. We deliver strategic market and customer intelligence, increased value of data assets, and accurate business outcomes.
Annotation, Classification and Segmentation

Product Detection 

Sound & Phonics Recognition

Sign Tagging and Labeling

Augmented Real-Time Scenarios

Training Data Set Creation
Security
You can trust our team of content moderation experts to safeguard your platforms, user rights, and brand reputations by carefully and continuously reviewing and moderating your web content and ecosystems.
Data-Driven Content Moderation

Issue Monitoring

Spam Identification & Control

Fraud Detection and Prevention
Geospatial Content Management
We support clients to deliver the most advanced geospatial content management services. We help create, enhance, and maintain maps real-time, as well as and modernize and update maps instantaneously. In addition to having deep experience with the most-used map APIs, we are able to work across the breadth of geospatial services.
Basemaps and routing

Geometry Features

Navigational Attributes

Indoor Maps

Open Street Mapping (OSM)
E-Commerce Solutions
We help global e-commerce players deliver engaging user experiences by applying human judgment and machine learning to classify, curate, and catalogue products. By harnessing product data from manufacturers and brand owners, we are able to index the most relevant results for customers.
Classify, Curate & Catalogue 

Trend Spotting

Data Analysis & Comparison

Product & Category Segregation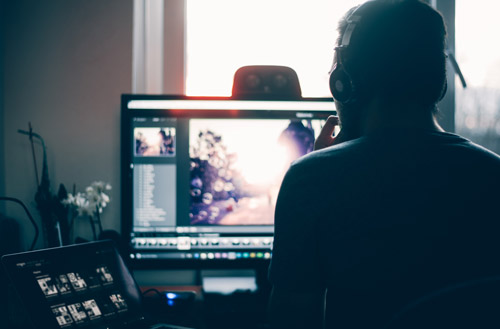 Content Curation & Search Operations
We help businesses deliver more efficient search results and enhanced user experiences by leveraging human curation, data analytics, research, domain knowledge, and automation to provide structured data across locations and languages.
Superior User Experience 

Cost Efficiencies

Strong Analytical Skills

Maintenance of Knowledge Graphs & Creation of new search domains
Data Mining & Analytics
We provide a wide range of data-related tools and services, encompassing multiple extensions across multiple formats. Our data engineers also have expertise in developing front-end user interfaces, data parsing and extraction solutions, and crawling tools.
Data Parsing

Data Extraction

Data Crawling 

Data Curation
Content Digitization
We offer end-to-end lifecycle digital enablement services to improve business processes and optimize costs, including document lifecycle and digital asset management services.
Claim & Invoice Digitization

Business Logic Validation & Correction 

Data Enrichment 

Search-friendly Metadata Management

Multimedia annotation
Product Support
We provide our customers — and their partners — with responsive, multilingual product support services through chat and email support channels. We work with online sellers across the globe to support their e-books and apps. From user-facing chatbots to customer-facing support specialists, we can help you field questions and resolve issues across numerous media channels.
End-to-end Operations Support

Front and Back-End Support

Policies and Guidelines Support
Hearing Loss Solutions
On-Demand Media Printing Solutions
Meet Our Experts
Working as a Data Scientist for one of GlobalLogic's Insurance clients, I believe in the philosophy of 'smart work' and 'continuous improvement'. Within a year, I've achieved numerous milestones starting from winning a national level Hackathon to transitioning into the role of a Data Scientist. I'm a core member of AI/ML practice & DEVOPS practice at GlobalLogic, and have successfully delivered POCs for both. I have also authored a whitepaper on the role of big data analytics in insurance.
Subodh Pandey, Consultant, Engineering
As a Quality Assurance Consultant at GlobalLogic, I believe in actions doing the talking. I consider OTT domain knowledge as my key strength and love leading the team from the front to set an example for others. As an avid multitasker, I harmonize my skills around both Front End & Back End testing of OTT, Analytics & people management to deliver exceptional results. As a leader, I consider it my duty to set the right culture within the team and ensure that together we deliver only the best to our clients.
Akshatha Aithal, Consultant, Quality Assurance
Working with GlobalLogic has given me the opportunity to contribute to make a lasting impact in the life of many through our work across Industries. At GlobalLogic, I continue to pursue my passion of working on futuristic technology. I started back in 2009 and grew rapidly. Today, I am focused on Thought Leadership, Digital Acceleration, and Future Ready Talent for the next level of growth. Future is already here at GlobalLogic!
Vikas, AVP, Technology
I work as a Specialist Quality Assurance at GlobalLogic. I would like to describe myself as an aggressive and passionate Media domain professional. I have been instrumental in elevating, implementing and demonstrating new POCs which improve the overall product quality and effectiveness.I am a subject matter expert for new media domain RFPs and initiatives. Always looking out for new initiatives and opportunities, I do not like to settle and that makes me Win.
Venkatesha K G S, Specialist, Quality Assurance
I work as a content Engineer at GlobalLogic. I am very passionate about what I do and my quick decision making skills backed up by research and experience always work to my advantage. I have been a Mentor for more than a year and have helped various teams improve their production, enhance agility and quality. I love wearing many hats: Editor, Trainer, Mentor, Quality Control and an enthusiastic learner. Learning is Growing.
Sumanyu Koka, Content Engineer
I am Sr. Solution Architect at GlobalLogic and I believe in pursuing and doing things beyond the role of a professional services engineer. I carved my own path by enrolling for the Technical Architect Academy in 2018. Since then it really changed my thought process and style of working – I switched to the role of an Architect from professional services, worked on a number of advisories providing solutions to the partners, published whitepapers, completed certifications and even participated in a number of RFPs, adding to customer logos. Happy being who I am.
Ashutosh Gupta, Sr. Solution Architect
I lead the Operations and PMO functionality for my team at GlobalLogic. By automating and enhancing operational processes I've achieved results in saving bandwidth of delivery functions to a great extent. I have created internal dashboards and introduced automation which provided an accurate analysis and analytics, enabling proactive management decisions and streamlining operations.I also assisted on resource management across accounts which led to negligible bench for people. Happy to be making a change.
Amiykant Shukla, PMO & Operations
I've spearheaded many key initiatives within the team, leading to an overall improvement in QA effectiveness. I consider myself a go-getter and always lookout for new opportunities within and outside of my project. I value a customer-centric approach towards problem-solving and take ownership from inception to closure. I'm glad that my exceptional leadership skills are well appreciated by GlobalLogic and the customer as well.
Chethan S, Consultant, Quality Assurance
As a Product Manager, I am passionate about products combining prioritization and shorter decisive cycles, driven by extensive research. Every challenge is a new opportunity for me. In the past 9 years, I have donned multiple roles and driven exceptional value as a Developer, SME, Business Analyst, Product Owner and Product Manager across multiple domains. I'm also an active member in the employee activity club, hackathons, innovation events & pre-sales; recognized with multiple awards for my contribution.
Akkshay Garg, Consultant, Business Solutions
With 26+ years of experience, I have successfully architected, managed & delivered projects across various industry verticals and led teams of all sizes. I have also driven the strategic IT direction of client organizations, leveraging emerging technologies and best practices that exhibit the potential for improving execution, efficiency and effectiveness. I am passionate about re-visioning complex challenges, motivating teams to execute successfully through insight and taking big ideas forward.
Prabhu, Principal Architect, Technology
It has always been very easy to communicate with everyone at the company when I have any issues or questions and the resolutions are really fast too. This was my first time coming and working in Sweden and everything was really smooth. Everyone is really friendly and helpful. I also got into a good project and got a lot of exposure working in it. I learnt a lot and have been growing continuously since then.
Sourav, Senior Software Engineer
I'm a Big Data, AI & ML expert with hands-on experience in full-stack technology. I'm also passionate and enthusiastic to keep up with the latest technologies, be it AI, ML, Bigdata, Webservice, Cloud, Automation, Front end/Mobile. I've had the opportunity to play many diverse roles like Solution architect, Technical Designer, Onsite Coordinator, Project Lead and more. This helps me translate business requirements into technical solutions with the highest quality, usability, security and scalability; often in complex and challenging customer environments.
Bhushan, Solution Architect, Technology
The level of trust and confidence that the leadership has on my innovations and capabilities really motivates me and drives me to be better. Validation of my work and creativity by my superiors brings that exceptional quotient in me. In the hackathon last year, I developed a Virtual Gym assistant that analyses the exercises done by a person in real-time. I also designed and developed a retail marketing store for our Customer Experience Centre. I truly believe in the quote: Work doesn't feel like work if you do what you love.
Hamzah, Senior Software Engineer, Engineering
In my 10+ years, I have delivered 35+ projects in different domains and held various roles – QA, Functional Automation Consultant, Performance Test Consultant, Release Manager & Product Owner. I have led QA portfolio of Enterprise Applications Group across India and transitioned into Release Manager for a marquee global retail brand. Currently, part of Business Solution & Consulting, I am a Product Owner who builds innovative next-generation products and platforms.
Naveen, Consultant, Business Solutions
GlobalLogic gives me the freedom to never limit myself. I hold 2 patents in AI for Marketing. Within 6 months of joining, I took complete ownership of a US-based project and transformed it to deliver high business value. For another key project, I delivered an AI-based POC, highly appreciated by the client. The idea started as a side project for me & I'm excited to see it roll out globally as a conversational AI product, to be used by millions.
Sreekanth, Associate Product Manager, Engineering
At GlobalLogic, I have successfully led & delivered Artificial Intelligence and Machine Learning engagements on a global scale. I also get the opportunity to develop and implement accelerators for global companies across industries. Moreover, I enjoy delivering tech talks as a Big Data SME, strengthen industry-academic collaborations, build PoCs and mentor talented people to shine through with their ideas.
Param, Senior Consultant, Engineering