Professional Development
We believe development is a diverse journey. Acquiring new skills, sharpening existing ones, cross-domain learning & more help our people advance their careers.
Building Exceptional Careers
Learning and personal growth never stop at GlobalLogic! It is in our culture of growth to nurture, upskill our talent and make them future-ready. Through various learning interventions, our people are constantly elevating themselves. We empower our people to not only grow vertically but also explore diverse career opportunities.
GlobalLogic Vantage
GlobalLogic Vantage promotes a culture of continuous learning through academies, up-skilling and cross-skilling. The flagship career development accelerator program encompasses Tech++, Nexgen, Leaders Vantage programs and more. Instructor-led classroom trainings, mentoring programs, tech seminars and innovation showcases aim to enhance knowledge and empower employees. There are numerous opportunities for specialization and cross-domain learning. Our rotation programs and relocation policies emphasize on lateral progression and urge people to explore new horizons.
Campus To Corporate
Freshers at GlobalLogic are mentored through a blended training curriculum as they transition from campus to corporate. Instructor-led personalized training coupled with mobile e-learning modules enable a faster learning curve. Our tech mentorship programs seamlessly help onboard new talent and deploy them into live projects at an optimal time. The curriculum is designed, mapped & steered to the needs of the millennials and Generation Z. Additionally, there are workshops on design thinking, behavioral training and hackathons – to springboard innovation and identify the smartest ideas.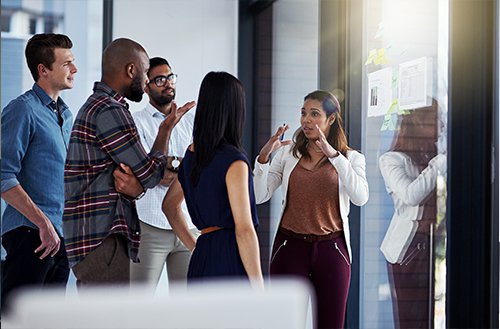 Academies & Beyond
Our indigenious tech academies help people advance their careers by acquiring new skills and sharpening existing ones. GlobalLogic's Technical Architect Academy identifies and promotes aspiring architects. Our Data Engineering Academy provides curated learning modules and master classes. The Digital Academy focuses on nurturing talent for niche digital offerings while our Communication Academy enables individuals to present their thoughts confidently, create a high impact and take the stage as a leader. These enable you to pursue a path of continous learning and always stay ahead.
GlobalLogic Academies
Transforming today's tech talent for tomorrow! A structured, long-term, community-driven, on-the-job learning program enabling organic growth of Talent with a fast-track career progression model. We provide comprehensive learning career progression paths as part of the different academies. You can explore the individual academy as each of these academies have their own learning feature.

Blended Learning Model – Asynchronous + Synchronous
Self Paced Learning Instructor-Led Deep Dive Learning Experience-driven practice Proficiency Evaluation by Experts Multi-Channel Delivery