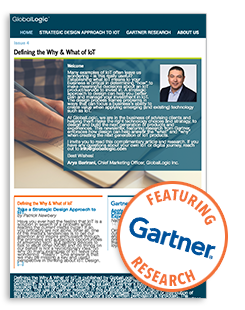 Many examples of IoT often leave us wondering – is this really useful? Establishing what IoT means to your business is critical in determining "how" to make meaningful decisions about an IoT product or service to invest in. Design can be the missing key and a useful perspective to succeed. A strategic approach to design can help you better plan and manage your investment in IoT. The design process frames problems in ways that can focus a business's ability to create value when applying emerging (and existing) technology such as IoT.
Submit the form on the right to view the fourth issue in our digital transformation series, which includes:
Take a Strategic Design Approach to IoT (GlobalLogic Article): GlobalLogic's Digital Solutions Practices Leader demonstrates how design thinking can help businesses answer important questions when deciding how to invest in IoT.
Apply Design Thinking to Create Compelling IoT Customer and Partner Experiences (Gartner Report): Organizations are radically transforming customer and partner experiences with IoT-enabled solutions. Applying design thinking principles enables technology product managers to engender engagement and loyalty.