These days, a modern home will have an array of smart gadgets, from automatic garage doors that close at a specific time every night to internet-connected devices that are programmed to set the temperature or adjust the lighting in homes. These advanced products give connected users remote access to control and respond to real-time events through a phone app or various forms of voice control, making it easier to keep homes organized.
What has contributed to the increasing popularity of these innovative technologies is how accessible, affordable and mainstream they are becoming, giving households a choice of options that reflect their budgets. However, one only needs to look back a few years to understand the extent of growth in American smart home trends. 
In 2018, smart home statistics show approximately 29.5 million households were using smart home devices. While between 2021 to 2022, American households saw a 6.7% increase in smart home devices, with about 57.4 million homes actively using smart home devices. And by 2025, this figure is expected to reach 64.1 million households.
These figures indicate that smart home trends are here to stay, and as we progress into the future, they will develop an even stronger presence. The problem now for consumers is navigating the wide variety of products and selecting the best products for their homes. Before diving into trending smart products, let's first look at why smart technology is so popular. 
Why are Smart Products Popular?
Internet-connected devices characterize smart products, often including home automation or domotics, which allow users to control and monitor their connected devices remotely to suit their lifestyles. 
The key to why smart products are so popular is the automation technology that allows connected devices to perform everyday tasks like turning off lights when a room is empty. Below, we will highlight some key benefits of why smart products are so popular:
Added convenience and comfort:

With a simple swipe, tap, or voice command, users can use smart devices to manage everyday tasks according to a user's preferences. 

Increased safety and security:

Installing smart home security systems, such as sensors that detect human activities, provides protection when unwanted intruders are detected, automatically notifying local law enforcement. It is prevalent for users to connect their homes with smart security before going on vacation, giving them peace of mind while away. 

Improved accessibility:

Intuitive smart products also allows for improved accessibility. Smart features, like voice command, allow hands-free experiences, which is practical for the elderly or those with limited mobility. The connected devices improve their quality of life, giving them added convenience and ease. 

More efficiency and savings:

Smart devices, like smart heating and cooling systems, are considerably more energy efficient and can

save a household up to 50% in energy

bills. When connected with smartphone apps, users can monitor and track their energy usage, regulating the temperature of their homes to their preferences while saving on their energy bills. 
Recommended reading: The Economics of Digital Transformation [Whitepaper]
Current Smart Home Trends
Now that we understand why smart devices are popular, let's look at current smart home trends. The current smart home device market is growing at an impressive pace. In 2021, the global smart device market was valued at US$84.52 billion with an annual growth rate of 10.4%. However, by 2022, the market has grown to US$115.70 billion with an 13.97% CAGR increase. While by 2026, the market is expected to surpass US$195.20 billion. 
While there is already a wide array of established smart home brands, new companies are also entering the market. With so many choices, knowing which products are reliable can be difficult. Therefore, below we have highlighted some leading companies in the smart home automation market:
All the companies above are well-established with innovative home automation products that allow users to access and manage their homes remotely via a mobile device. Additionally, some semi-vertical SW platforms enable users to mix and match different smart devices, offering more flexibility while staying connected and in complete control. Some of these companies and smart products include:
Smart home devices have already penetrated our daily lives, with the connected home being a foundation for collecting and sharing home data. On one end of the spectrum are the sensors and devices that collect data and provide user interfaces, and on the other are the local and remote cloud services and analytics that add intelligence and value. The internet gateway is at the core of this connection of devices and services, while a layer of security spans the entire ecosystem.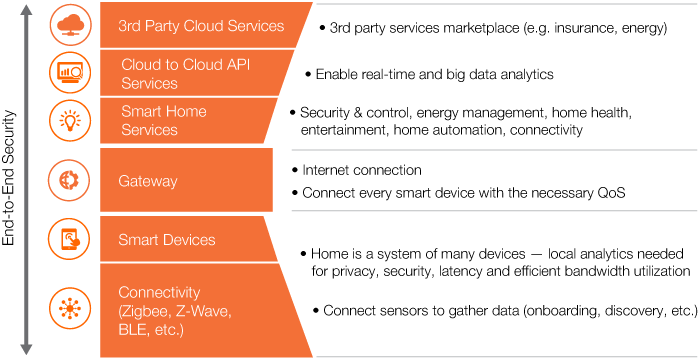 Recommended reading: Security for the Internet of Things [Whitepaper]
Voice is the Natural UI for the Smart Home
As a design-led engineering company, GlobalLogic has accumulated tremendous experience driving smart home automation for various global customers, from startups to technology leaders. From our experience, we've found that mobile application interfaces are a great tool, making it easier and more natural to communicate and receive feedback by voice while at home.
Speaking to a device with AI that understands you and can execute your commands elevates the experience to another level. According to Juniper research, in 2019, the global use of chatbots was valued at 586 million in 2019. However, by 2030, it is expected to reach 7 billion. At the same time, voice assistants like Amazon Alexa have also gained traction, with Alexa holding 62% of the global market.
This calls for product leaders at technology and service providers to invest and improve the voice interfaces, focusing more on personal home assistants and, ultimately, voice-controlled smart products, which can be integrated into the home.
A fantastic example is Amazon Alexa. Alexa drives voice-enabled control of smart home devices (among other skills).  After years of development, Siri, Google Now, and Cortana are other sophisticated personal assistant technologies inspiring the smart home ecosystem.
We see many iterations around smart home voice-enabled functions. For example, Mark Zuckerberg has even created a home automation system called Jarvis, which Morgan Freeman voices. The Javis system has an array of features allowing Zuckerberg to control everything in the house, including lights, music, lights, and temperature, all via voice control. It also has a textbot connected to registered devices, allowing users to control devices via text. 
A fun fact about Jarvis. It is named after Tony Stark's artificially intelligent computer J.A.R.V.I.S. in Iron Man, which stands for Just A Rather Very Intelligent System.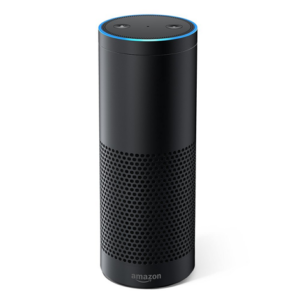 While there is momentum, hurdles remain
AI is an essential part of this human-machine interaction. Consider that even simple functions, such as switching on and off the lights, might be challenging considering all the ways the command could be given—"Shut off the light in the back bedroom" vs. "Turn off the lamp in the kids' room".
Teaching your smart home assistant to understand different linguistic nuances is essential for a smooth consumer experience. That's where voice biometrics and intelligence come into play. You should be able to say, "Play my favorite song," and have your smart home assistant recognize your voice and your preferences.
Consider also the possibility of combining a shopping service, like Amazon Prime Now, Amazon Echo, and a smart stove, and you can see how the complexity of commands can quickly escalate—"I want to order the ingredients for fettuccine alfredo for four people. I already have the butter and garlic. Deliver it today before 6 p.m. Start to boil the water 5 minutes before it's delivered." 
Developers can work with the Alexa Skills Kit to add AI capabilities of understanding the human voice instead of developing their own proprietary AI to support a smart home ecosystem.
To realize the opportunities of the smart home, the leading players will need to collaborate and form partnerships to ensure disparate devices and services connect in the background to meet that all-important desire for simplicity. Currently, there is a focus on the "big picture" benefit of the smart home, while steps are being taken to convert the smart home from a "good to have" to an "essential to have."
Ultimately, security and safety are the primary concerns that must be addressed as smart home technologies evolve. For example, smart home voice commands may activate security-related functions. Still, they will require sophisticated recognition technologies to ensure a recorded voice cannot be used to activate these commands. 
Soon we'll all have a chance to be like Iron Man with our own Jarvis or "Star Trek computer" on board to manage home, car, and day-to-day activities.
Learn more: