Dlaczego warto dołączyć do GlobalLogic?
Obiecujemy przyjazne i sprzyjające integracji środowisko pracy, w którym będziesz mógł stawiać czoła wyzwaniom, ucząc się i rozwijając każdego dnia.
Poznaj naszych ekspertów
Piotr rozwija motoryzacyjne systemy informacyjno-rozrywkowe dla najbardziej rozpoznawalnych marek na świecie. Napędza go pasja do samochodów i dbałość o szczegóły. Przez ostatnie siedem lat Piotr gruntownie poznał i zrozumiał, jak rozwija się oprogramowanie w przemyśle motoryzacyjnym. Zaowocowało to wieloma wyróżnieniami od klientów. Praca w GlobalLogic daje mu wyjątkową okazję do rozwoju oraz poszerzenia umiejętności.
Piotr, Lead, Software Engineer
Radosław dołączył do GlobalLogic w 2012 roku jako Junior Software Engineer, zdobywając cenne doświadczenie w projektach związanych z motoryzacją czy aplikacjami internetowymi. Zamiłowanie do technologii to jego motywacja życiowa, dlatego też dzieli się swoją wiedzą z innymi.Radek uczy Pythona oraz sztuki programowania dla Geek Girls Carrots, organizacji pracującej na rzecz kobiet w świecie IT.
Radosław, Lead Test Engineer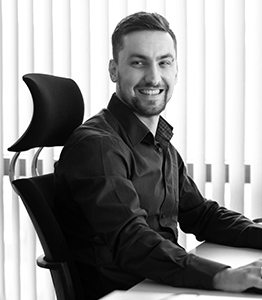 Piotr pracuje dla największej firmy motoryzacyjnej w Europie. Jest częścią zespołu odpowiedzialnego za stworzenie wyświetlacza HUD dla nowego Mercedesa, który pojawi się na rynku w 2022 roku. Piotr odpowiada także za rozwój funkcjonalności oraz testy, w tym za bezpieczeństwo funkcjonalne. Wierzy, że pozytywna atmosfera w miejscu pracy ma ogromne znaczenie i przyczynia się do produktywnego i przyjemnego życia zawodowego
Piotr, Software Engineer
Paweł pracuje w projekcie Big Data dla jednej z największych międzynarodowych firm w branży farmaceutycznej. Kieruje i wspiera pracę kilku zespołów Scrum rozmieszczonych w 3 krajach na 2 kontynentach. Paweł koncentruje się na organizacji współpracy i wymiany informacji między zespołami a klientem, w dynamicznie zmieniającym się środowisku tworzenia oprogramowania w metodyce Agile.
Paweł​, Scrum Master
As a GlobalLogic employee, I feel it's natural to always strive for meet or exceed the client expectations. I have always appreciated GlobalLogic Sweden's flat organization enabling casual and personal relations with all members of the GlobalLogic team. I also enjoy the constant opportunities to every day develop new knowledge in todays and future technologies.
Per-Anders, System Engineer
Jurata jest Inżynierem Wymagań w branży motoryzacyjnej i Liderem Inżynierów Wymagań w polskiej części projektu (koordynuje pracę 17 osób w 3 lokalizacjach). Koncentrując się na diagnostyce, odpowiada również za wymagania programowe w systemie. Aktywnie uczestniczy w międzynarodowych konferencjach i wydarzeniach, np. Impact Mobility rEVolution i jubileuszu Women in Technology Poland.
Jurata​, Business Analyst
It has always been very easy to communicate with everyone at the company when I have any issues or questions and the resolutions are really fast too. This was my first time coming and working in Sweden and everything was really smooth. Everyone is really friendly and helpful. I also got into a good project and got a lot of exposure working in it. I learnt a lot and have been growing continuously since then.
Sourav, Senior Software Engineer
Paweł zajmuje się tworzeniem automatycznych testów, a także testowanie aplikacji i oprogramowania układowego. Wyróżniają go umiejętności mentorskie, wspiera nowych pracowników, juniorów i regularnych testerów. Paweł jest entuzjastą Lego Mindstorms i Lego Technic, bierze udział w konkursach Lego SUMO.
Paweł, ​Senior Test Engineer
Piotr jest liderem zespołu zajmującego się zdalnymi aktualizacjami oprogramowania w pojazdach i innych urządzeniach. Zawodowo związany jest z chmurami publicznymi. Zajmuje się nimi od 5 lat. Zaczynał od rozwiązań Amazon Web Services, obecnie pracuje z  technologią Azure. Nie wstydzi się przyznać, że komputery to jego największa pasja.
Piotr, Senior Consultant
Marcin jest odpowiedzialny za działania dla różnych klientów we Wrocławiu – od oprogramowania wbudowanego i testów urządzeń gospodarstwa domowego, poprzez automatykę przemysłową, po rozwiązania klasy enterprise oraz chmury obliczeniowe. Pasjonują go stare samochody i jego rodzina, która jest ważnym filarem w stale zmieniającym się środowisku pracy.
Marcin, Director, Engineering
Jako Automotive IT Project Managerem oraz R&D Leader, Tomasz ma ponad 6 letnie doświadczenie prowadzeniu projektów i zarządzaniu zasobami ludzkimi. Certyfikowany SCRUM Master i PMP, a także Lead Software Engineer z doświadczeniem akademickim. Uwielbia nowe wyzwania, innowacyjne podejście do projektów, optymalizację procesów oraz rozwiązywanie problemów.
Tomasz, Project Manager
Here at GlobalLogic I constantly feel the synergy of working with colleagues. It helps me to resolve all tasks, even complex, very quickly. In addition, the diversity of projects makes it possible to find something that really appeals to you, or switch to another if you feel that you need new challenges. I am very pleased to be able to share my expertise and knowledge at tech talks, conferences. It is also great how the company collaborates with the universities.
Ruslan, Associate Manager, Engineering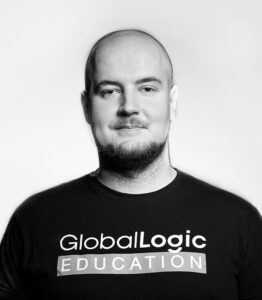 At GlobalLogic I can create and bring new ideas to life. With the support of different departments, I grow as a technical expert and build teams of world-class engineers. The open, caring and innovative environment of the company helps me to create new concepts as well as invest my efforts in building engineering communities and developing new approaches to higher education.
Andrii, Senior Software Engineer
Globallogic is a dream come true; it gives a free work culture environment where I had worked with my own space. I maintain my personal and professional life very nicely. For my hard work, I always get appreciation, financial, and career growth. My aspirations are always heard, and a path is always given to achieve that. A BIG THANK YOU.
Utkarsh, Specialist Engineer
The most valuable aspect in my workplace is the feeling of being respected and appreciated for what it makes me different. GlobalLogic has shown me a compromise for my personal growth by keeping a flexible work-life balance that allows me to develop my career path. Diversity of projects and human personalities is also a crucial aspect that makes this company unique, as it increases innovation to our workforce.
Jimena, Senior Designer