Dlaczego warto dołączyć do GlobalLogic?
Obiecujemy przyjazne i sprzyjające integracji środowisko pracy, w którym będziesz mógł stawiać czoła wyzwaniom, ucząc się i rozwijając każdego dnia.
Poznaj naszych ekspertów
Piotr rozwija motoryzacyjne systemy informacyjno-rozrywkowe dla najbardziej rozpoznawalnych marek na świecie. Napędza go pasja do samochodów i dbałość o szczegóły. Przez ostatnie siedem lat Piotr gruntownie poznał i zrozumiał, jak rozwija się oprogramowanie w przemyśle motoryzacyjnym. Zaowocowało to wieloma wyróżnieniami od klientów. Praca w GlobalLogic daje mu wyjątkową okazję do rozwoju oraz poszerzenia umiejętności.
Piotr, Lead, Software Engineer
Radosław dołączył do GlobalLogic w 2012 roku jako Junior Software Engineer, zdobywając cenne doświadczenie w projektach związanych z motoryzacją czy aplikacjami internetowymi. Zamiłowanie do technologii to jego motywacja życiowa, dlatego też dzieli się swoją wiedzą z innymi.Radek uczy Pythona oraz sztuki programowania dla Geek Girls Carrots, organizacji pracującej na rzecz kobiet w świecie IT.
Radosław, Lead Test Engineer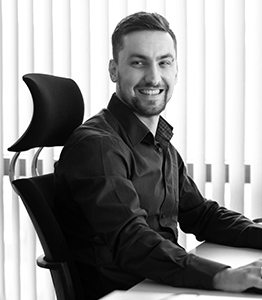 Piotr pracuje dla największej firmy motoryzacyjnej w Europie. Jest częścią zespołu odpowiedzialnego za stworzenie wyświetlacza HUD dla nowego Mercedesa, który pojawi się na rynku w 2022 roku. Piotr odpowiada także za rozwój funkcjonalności oraz testy, w tym za bezpieczeństwo funkcjonalne. Wierzy, że pozytywna atmosfera w miejscu pracy ma ogromne znaczenie i przyczynia się do produktywnego i przyjemnego życia zawodowego
Piotr, Software Engineer
Paweł pracuje w projekcie Big Data dla jednej z największych międzynarodowych firm w branży farmaceutycznej. Kieruje i wspiera pracę kilku zespołów Scrum rozmieszczonych w 3 krajach na 2 kontynentach. Paweł koncentruje się na organizacji współpracy i wymiany informacji między zespołami a klientem, w dynamicznie zmieniającym się środowisku tworzenia oprogramowania w metodyce Agile.
Paweł​, Scrum Master
Jurata jest Inżynierem Wymagań w branży motoryzacyjnej i Liderem Inżynierów Wymagań w polskiej części projektu (koordynuje pracę 17 osób w 3 lokalizacjach). Koncentrując się na diagnostyce, odpowiada również za wymagania programowe w systemie. Aktywnie uczestniczy w międzynarodowych konferencjach i wydarzeniach, np. Impact Mobility rEVolution i jubileuszu Women in Technology Poland.
Jurata​, Business Analyst
Paweł zajmuje się tworzeniem automatycznych testów, a także testowanie aplikacji i oprogramowania układowego. Wyróżniają go umiejętności mentorskie, wspiera nowych pracowników, juniorów i regularnych testerów. Paweł jest entuzjastą Lego Mindstorms i Lego Technic, bierze udział w konkursach Lego SUMO.
Paweł, ​Senior Test Engineer
Piotr jest liderem zespołu zajmującego się zdalnymi aktualizacjami oprogramowania w pojazdach i innych urządzeniach. Zawodowo związany jest z chmurami publicznymi. Zajmuje się nimi od 5 lat. Zaczynał od rozwiązań Amazon Web Services, obecnie pracuje z  technologią Azure. Nie wstydzi się przyznać, że komputery to jego największa pasja.
Piotr, Senior Consultant
Marcin jest odpowiedzialny za działania dla różnych klientów we Wrocławiu – od oprogramowania wbudowanego i testów urządzeń gospodarstwa domowego, poprzez automatykę przemysłową, po rozwiązania klasy enterprise oraz chmury obliczeniowe. Pasjonują go stare samochody i jego rodzina, która jest ważnym filarem w stale zmieniającym się środowisku pracy.
Marcin, Director, Engineering
Jako Automotive IT Project Managerem oraz R&D Leader, Tomasz ma ponad 6 letnie doświadczenie prowadzeniu projektów i zarządzaniu zasobami ludzkimi. Certyfikowany SCRUM Master i PMP, a także Lead Software Engineer z doświadczeniem akademickim. Uwielbia nowe wyzwania, innowacyjne podejście do projektów, optymalizację procesów oraz rozwiązywanie problemów.
Tomasz, Project Manager