GlobalLogic Launches TAO App for Digital Transformation Services
Enterprise Digital Transformation at an Accessible Price
SAN JOSE, Calif.—August 13, 2020— GlobalLogic today announced the launch of its TAO service for enterprise-grade digital transformation. Available on both Google Play and the Apple App Store, TAO is a mobile app that gives companies of all sizes access to premium digital transformation expertise and talent in an affordable, easy-to-deploy package. 
"Now more than ever, organizations need to transform their business leveraging digital technologies to better access, engage, and serve customers," said Nitesh Banga, COO, GlobalLogic. "But the deep external service expertise needed to make this transition has been unaffordable and out of reach for most smaller organizations. With TAO, that is about to change."
TAO helps companies gauge where they are in their digital journey and connects users with the right content, tools, and experts needed to plan and execute their digital transformation program.At any point along the journey, users can ask TAO to connect them with GlobalLogic's experts, who will offer consultation and advice at no charge.
Users start their journey with the Digital Maturity Assessment. Based on the user's inputs, TAO will gauge their digital capabilities and send them a detailed report with their digital maturity score. This will provide insights about the company's relative position, strengths, and opportunities. Customized results are emailed to the user in minutes.
Once the user has their digital maturity score and detailed report, TAO can connect them with experts in GlobalLogic's teams to craft a Solution Blueprint that defines a company's detailed path to digital transformation execution. Blueprints come in affordable, fixed-priced packages crafted by those who have done this type of work many times before.
Armed with a digital maturity score and Solution Blueprint, TAO helps companies set up their own custom team. The Agile Factory is made up of an ideal mix of talented designers, architects, and software engineers who will execute the planned design and move to build the user's digital vision in the shortest possible time, at a price that won't break the bank.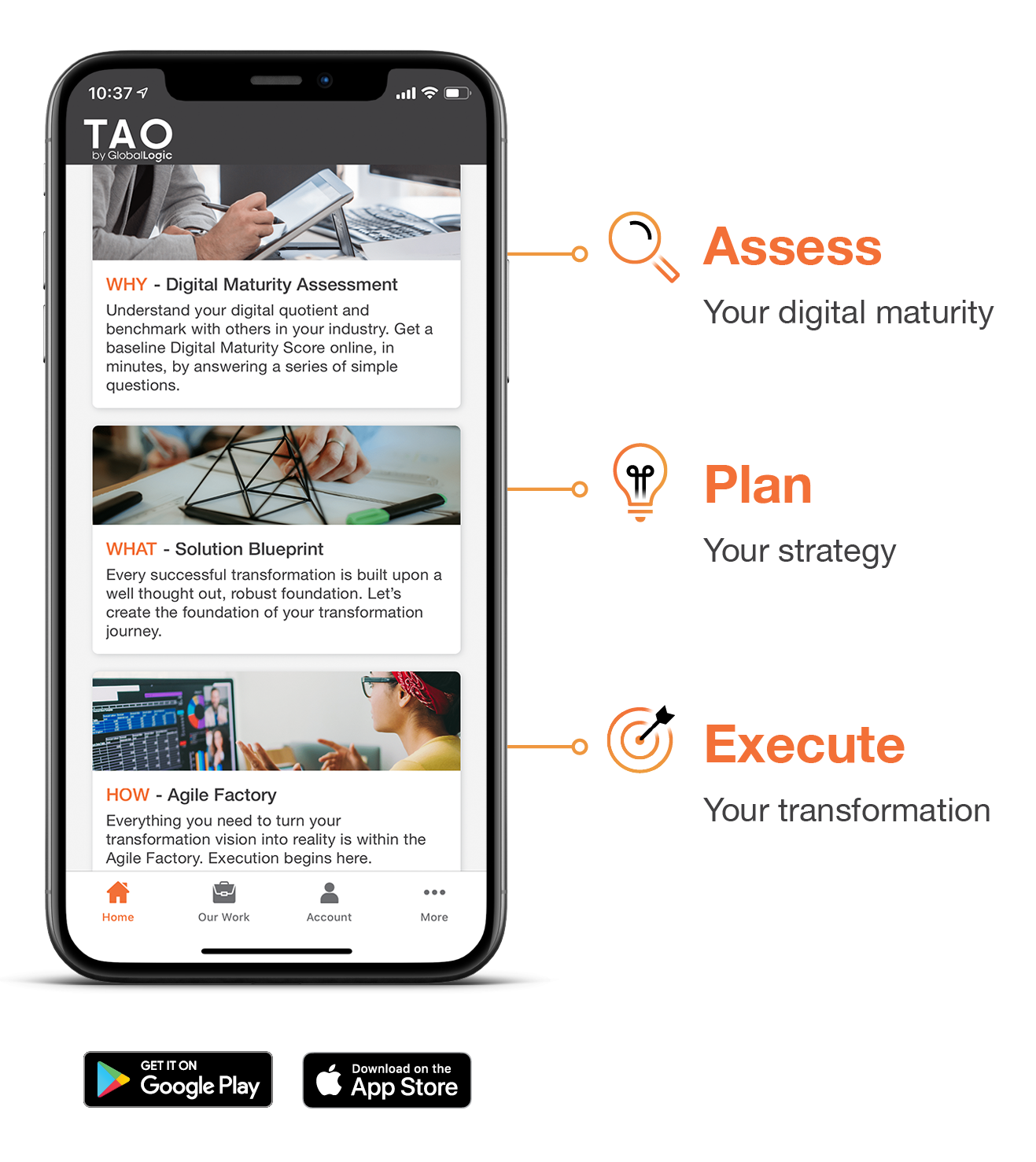 ---
GlobalLogic is a leader in digital product engineering. We help our clients design and build innovative products, platforms, and digital experiences for the modern world. By integrating strategic design, complex engineering, and vertical industry expertise—we help our clients imagine what's possible and accelerate their transition into tomorrow's digital businesses. Headquartered in Silicon Valley, GlobalLogic operates design studios and engineering centers around the world, extending our deep expertise to customers in the communications, financial services, automotive, healthcare, technology, media and entertainment, manufacturing, and semiconductor industries.
GlobalLogic is a trademark of GlobalLogic. All other brands, products or service names are or may be trademarks or service marks of their respective owners.