GlobalLogic's European Talent Base Surpasses 10,000 Digital Engineers
GlobalLogic continues the growth of its talent base in Europe. The company recently announced reaching the milestone of employing more than 10,000 digital engineers in Europe alone, marking a 70% growth of its regional talent base since 2019. Over the same two years, GlobalLogic increased its European development centers from 13 to 20. Collectively, these team members support the company's specialized digital technology programs and projects, which exceed 460 today.
GlobalLogic's recent milestone was driven by organic growth as well as mergers and acquisitions. In October 2019, the digital engineering firm acquired the Swedish company Assign Group, which specializes in developing digital solutions for the automotive and aerospace industries. In 2020, Meelogic Consulting AG, headquartered in Berlin, and ECS Group, based in London, also joined GlobalLogic. These acquisitions are part of the company's active strategy to strengthen its position in the DACH (Austria, Germany, Switzerland), UK, and  Nordic regions.
"GlobalLogic has crossed the important milestone of 10,000 professionals in Europe. Despite our significant scale and the unprecedented situation in the engineering talent market, we continue to grow rapidly. At the same time, the quality of engineering services we provide to our customers and the engagement of our specialists is increasing, and is currently even higher than in the pre-pandemic years. The company's growth in Europe opens up new opportunities for both our customers and our professionals. The opportunities include participation in international projects with well-known brands, professional development and training, possibilities of remote cooperation and relocation to different European countries," said Igor Beda, Group Vice President, GlobalLogic Europe.
GlobalLogic continues to expand and currently has 1,600 open positions based in Europe for engineers at various levels. The company invests in human capital development, notably spending more than $5.5 million on staff training, continuing education, and certification programs in Europe since 2018.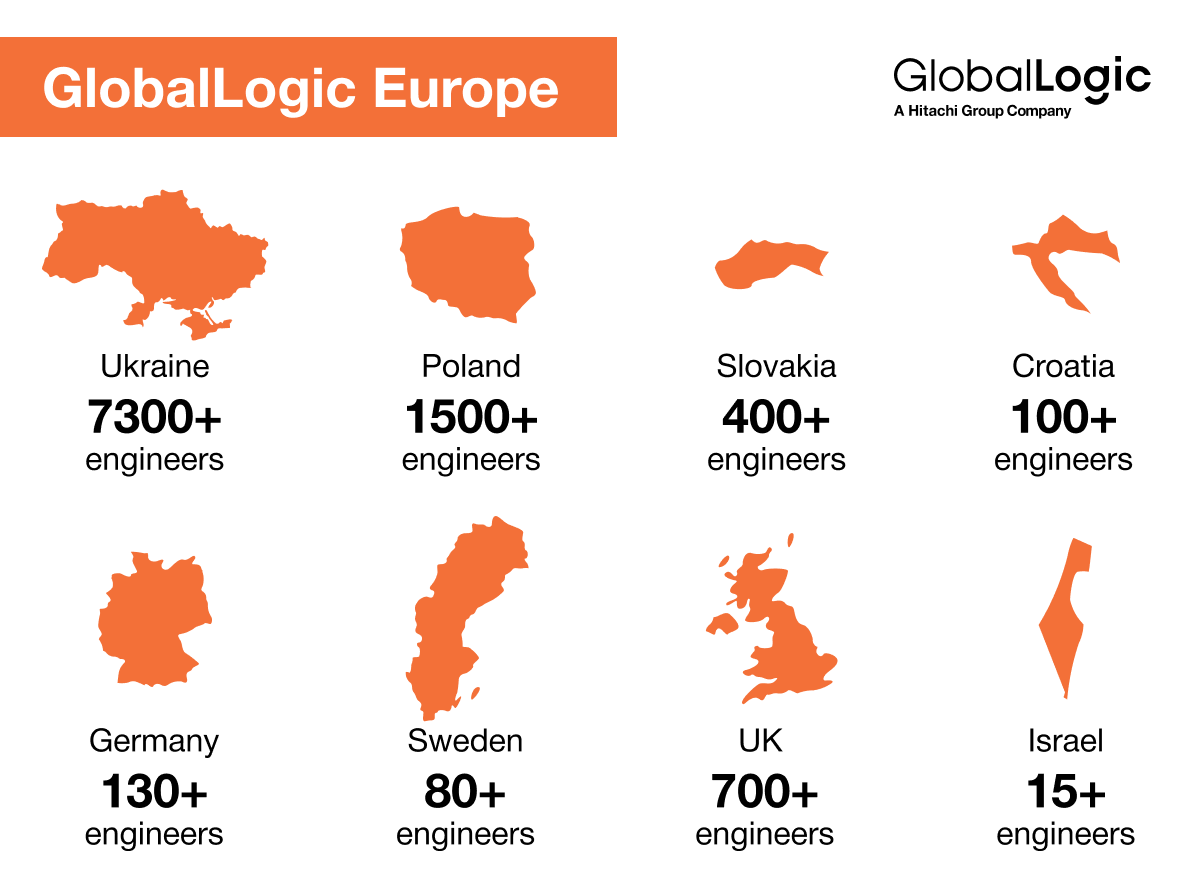 GlobalLogic has engineering facilities in multiple cities in eight European countries, including Ukraine, Poland, Slovakia, Croatia, Germany, Sweden, the United Kingdom, as well as a facility in Israel. Specialists are involved in international projects of leading European and global brands in industries such as automotive, Health Care, Communications and Media, Technology, Manufacturing and others.
About GlobalLogic
GlobalLogic (www.globallogic.com) is a leader in digital engineering. We help the world's leading brands design and create innovative products, platforms, and digital solutions for today's world. Combining strategic design, comprehensive engineering, and data expertise, we help our customers reach new heights and accelerate their transition to the digital business of the future. GlobalLogic is headquartered in Silicon Valley, USA, and engineering and design centers are located worldwide. We share our in-depth expertise with clients in the automotive, communications, financial services, healthcare, industrial, media and entertainment, semiconductor, and technology industries. GlobalLogic is a Hitachi Group company part of Hitachi, Ltd. (TSE: 6501). We develop social innovation through data and technology to improve worldwide people's quality of life.