Insight categories:
Atlassian
Automotive
Communications
Consumer and Retail
Financial Services
Healthcare
Manufacturing and Industrial
Media
Technology
Improved user selection
We have optimized the behavior of single user selection to make it easier to identify users. Now the selection shows the full name and avatar of the user. This way, the custom field user selection has the same appearance as the user system fields such as Reporter and Agent.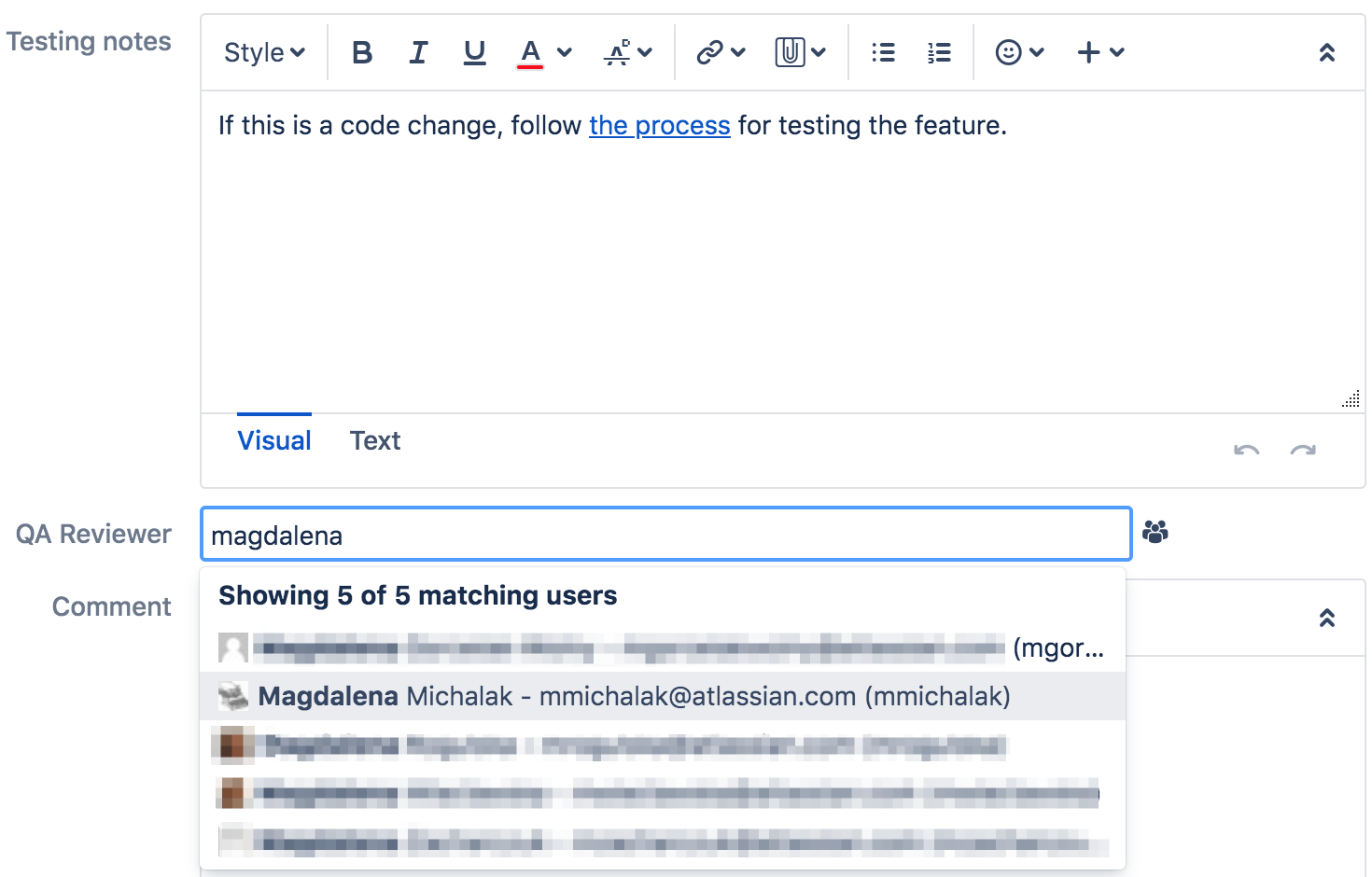 Filtered by category
Monitoring log events are divided into categories. With a Jira Data Center license, you can now filter the log by one or more categories. This is especially useful if, for example, you only want to view security and authentication events.
Filter by summary
Get even more specific by filtering by summary. This allows you to drill down to specific events, such as created groups or created projects.
Change log file retention settings
In Jira Data Center, we write events to a monitoring log file in your local outgoing directory. This file can be used as an additional record and when integrated with third-party logging aggregation tools.
Previously, the number of log files stored was limited to 100. This is now configurable, allowing you to store more or less as needed. The maximum size of each file is 100 MB. Therefore, make sure that you have enough storage space available on each node.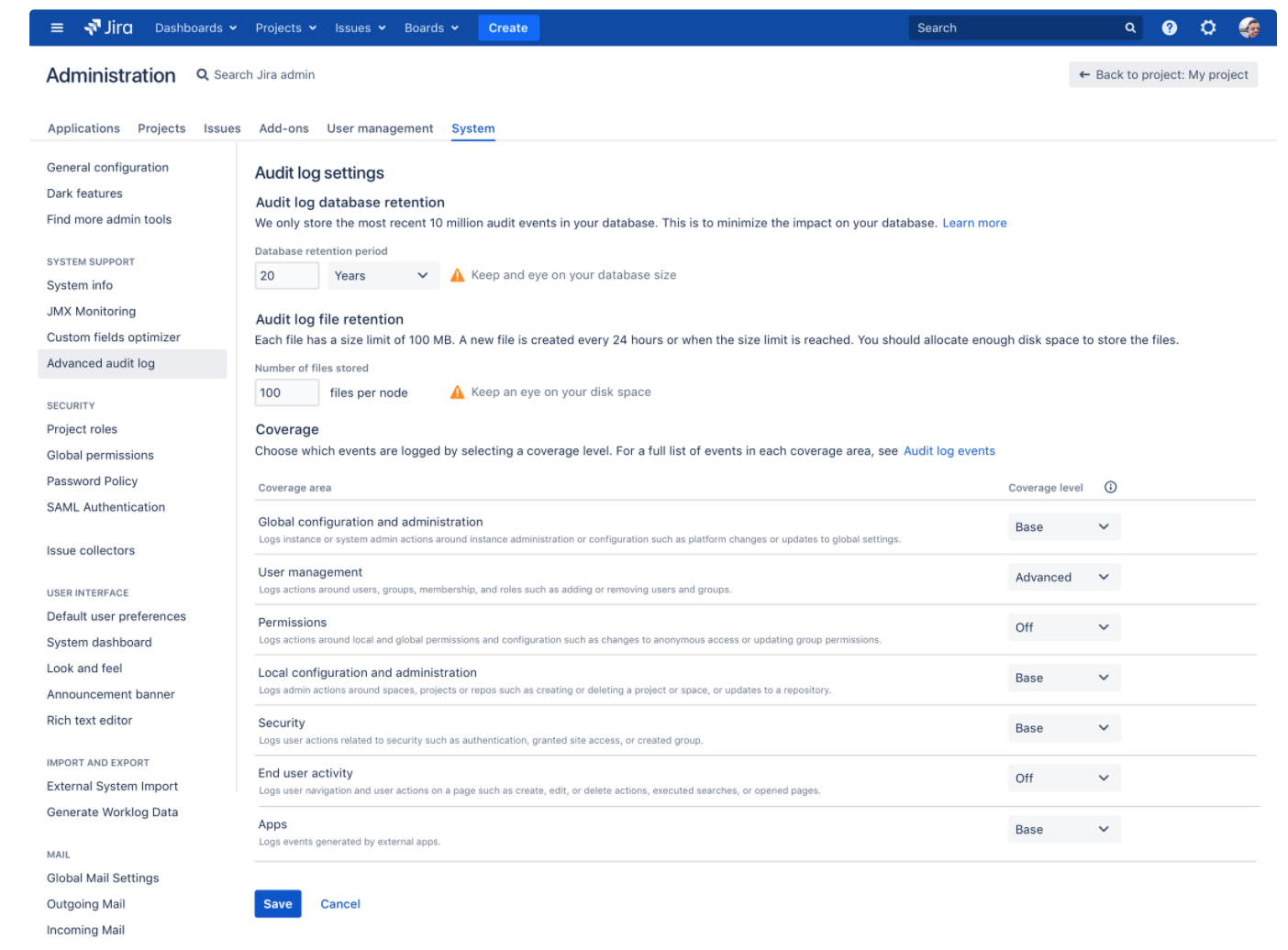 New Events
We've added new events to track priority, secure administrator login (Websudo), problem export, and OAuth 2.0 integration to give you better visibility into your application.
Support for MySQL 8.0
We are adding another database to the list of supported platforms – MySQL 8.0.
Reduced impact of the app on Jira indexing of (Data Center)
Worried about your indexing times? Read on, as this feature may change that. The document-based replication feature we introduced reduces the impact of apps on indexing time and prevents index inconsistencies in the Jira Data Center. This is independent of the time it takes apps to index data. When DBR is enabled, the Jira Data Center is much more horizontally scalable. The more nodes in the cluster, the better the overall throughput while maintaining search consistency. For more information, see Document-Based Replication in the Jira Data Center.
Users created automatically with just-in-time user provisioning (Data Center)
Just-in-time user provisioning (JIT provisioning) allows users to be automatically created and updated when they log in to Atlassian data center applications such as Jira, Confluence or Bitbucket via SAML SSO or OpenID Connect (OIDC) SSO.
Without JIT, SSO login fails if the user is not present in any of the user directories (be it a remote LDAP or the internal directory). If JIT is enabled, a user can be created just in time. This allows an immediate logon without having to create the user manually in the product first. The data required to provision the user is taken from the SSO response after user authentication, which must be configured in the Identity Provider (IdP) you have selected. Learn More
Small improvements for your day
Sequence of the statuses
The order of the statuses displayed in the columns on your card now reflects the order you set in the card configuration. If you do not want Chosen for Development to always lag behind, go to Board> Configure and shuffle the statuses as you wish.
Accessibility: background in subtle keys
We've added a new entry helper option that allows you to add a gray background to subtle buttons (which are normally displayed on hover) to make them stand out better. As with all other accessibility features, you can view them under Profile> Accessibility.