Insight categories:
Blockchain
Consumer and Retail
Manufacturing and Industrial
The use of blockchain has grown significantly since its original use as a form of cryptocurrency for ecommerce transactions. Businesses that rely on supply chains and smart contracts (e.g., manufacturers, distributors, suppliers, retailers, restaurants) are using blockchain (along with other technologies like cloud, analytics, AI/ML) to achieve their digital transformation / Industry 4.0 goals. This is especially true now during the recent pandemic, which has significantly disrupted supply chains across multiple industries. Let's take a deeper look into how enterprise-level blockchain is helping businesses fix broken supply chains, accelerate recovery times, secure transactions, track product information, and reduce operating costs.
---
How Does Blockchain Work?
For those who are new to the term, blockchain is defined as a "distributed, decentralized, public ledger." Put more simply, blockchain is a record-keeping technology. Each "block" is a piece of digital information (e.g., transaction data, participants, etc.) that is stored in a "chain" (i.e., a database that is distributed across a network of computers). When two or more parties engage in a smart contract or transaction through blockchain, each block of data is automatically verified and then made available to all parties to view for ultimate transparency.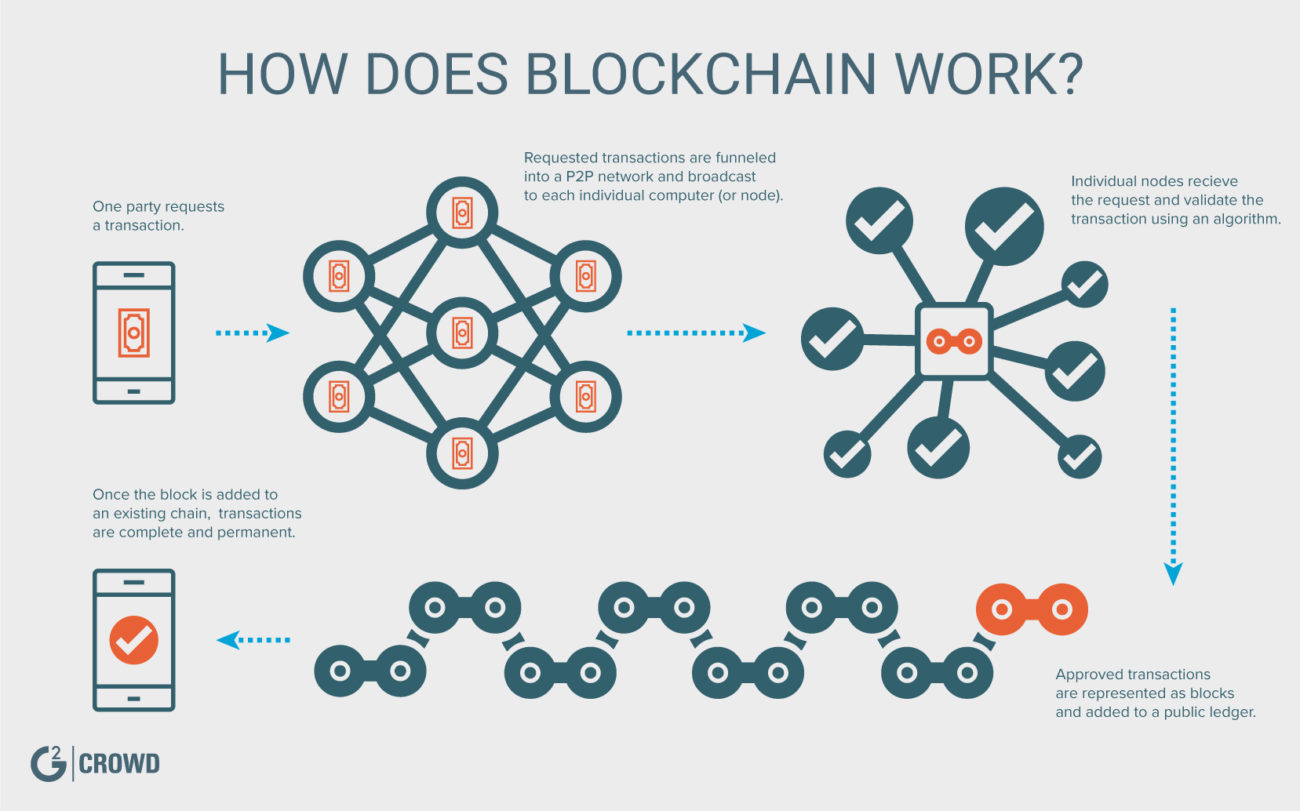 ---
How Blockchain Impacts Supply Chains
Blockchain enables companies to create a decentralized environment through which they can streamline supply chains and securely engage in transactions of various kinds.
1) Data Security & Reliability
Since the blockchain network continuously and independently verifies the data of the transaction, all involved parties can be assured of the accuracy, reliability, and trustworthiness of the exchange. Neither party can falsify data, and because blockchain uses cryptography and security protocols to link themselves, no one can hack into or manipulate the data. Gartner predicted that companies using blockchain smart contracts will increase their overall data quality by 50% by 2023, and for supply chains.
2) Transparency & Traceability
Once the submitted data is verified through the chain, it is made available for all involved parties, ensuring that everyone is working with the same data and avoiding potential miscommunications. Transparency is especially important for supply chain management, as it allows businesses to record and view detailed information about each product, such as price, quality, current location, date of sale, certification, etc. This level of detail is crucial for preventing fraud, tracking products for recalls, predicting maintenance issues, and more. According to Deloitte, "The availability of this information within blockchain can increase traceability of material supply chain, lower losses from counterfeit and gray market, improve visibility and compliance over outsourced contract manufacturing, and potentially enhance an organization's position as a leader in responsible manufacturing."
3) Transaction Monitoring & Enforcement
Blockchain ensures that all transactions and agreements are followed to the letter. For example, once deployed, blockchain smart contracts are immutable and irrevocable through non-modifiable code, which enforces a binding commitment to do or not do something in the future. For businesses that create digital products, such as 3D designs, blockchain can help track products to enforce usage rights — ie, making sure that customers are not using the product beyond the terms of the purchase agreement.
4) Cost & Time Savings
Using blockchain enables businesses to bypass third party intermediaries and microservices (or, at the very minimum, make these engagements more efficient). By automating labor-intensive processes through blockchain and reducing their dependence on external parties like lawyers, bankers, shipping agents, etc., businesses accelerate timelines, eliminate expensive fees, and lower their risk of having their supply chain being disrupted. Blockchain can even help businesses quickly identify second sources if the supply chain is disrupted.  
Traditional Supply Chains

Supply Chains with Blockchain

---
Case in Point
A recent example of using blockchain within the Industrial sector is logistics company Teleport, a division of AirAsia. Earlier this year, Teleport launched Freightchain, the world's first digital air cargo network to run on blockchain. Freightchain assigns shippers and their freight forwarders to cargo connections to help them with their supply chain needs and facilitate bookings in real-time, which are processed on-chain and confirmed through a blockchain smart contract. 
In a traditional system, a shipper must manually inquire about the availability of connecting flights with multiple airlines and agents. This oftens requires a lot of time spent on phone calls and emails. Freightchain simplifies the booking process and confirms itineraries 10 times faster by programmatically discovering the available routes with connecting flights within the shipper's budget and passing on significant cost savings to shippers. 
Not only does blockchain enable Teleport to significantly accelerate its booking processes, but the dynamic on-demand interlining of flights also helps airlines improve otherwise underutilized flights.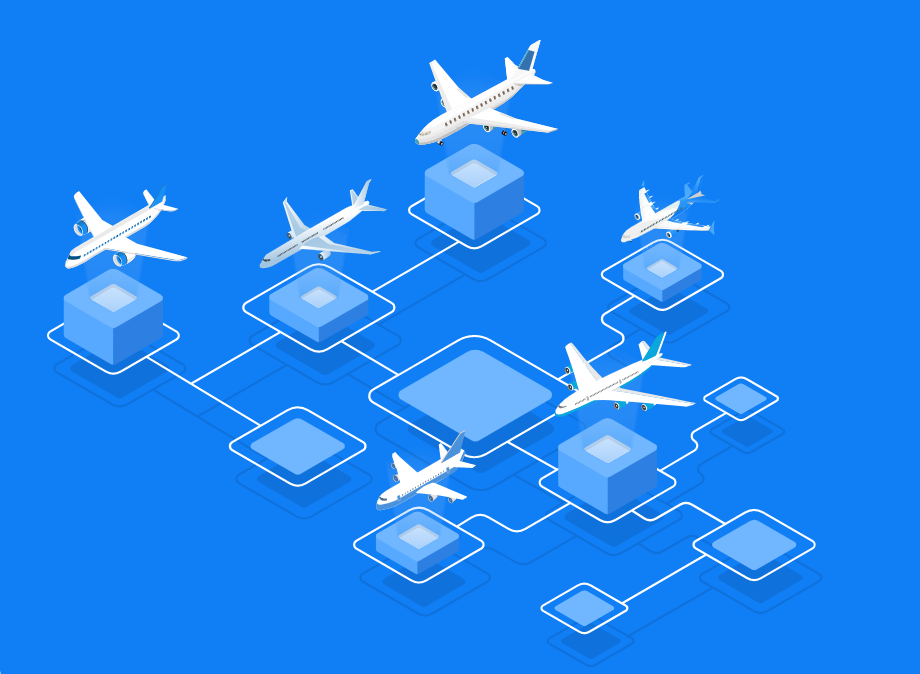 ---
Before You Get Started
It's not easy, or advisable, to jump directly into creating an enterprise blockchain solution. Before you get started, here are 3 questions you should ask yourself:
1) What problems are you trying to solve with blockchain?
Is your main concern eliminating third-party intermediaries to save on costs? Are you trying to automate time-consuming manual processes? Do you need a smart solution that can help you identify new sources when parts of your supply chain get disrupted? By prioritizing the problem or problems you are trying to solve with blockchain, you can build out your business's unique case and make better decisions about which kind of system to build, which technology to use, and how to implement it in the real world.
2) How will you design, build, and implement my blockchain system?
We recommend doing a small proof-of-concept (PoC) and tweaking your implementation based on the results. If replacing an existing system, consider running the blockchain alongside the legacy system. This way you can test and validate the new system with real data, but still use the legacy system to ensure continued production until you are ready to transition completely to blockchain. In addition, if you don't have expertise in-house, we recommend working with a service provider who can get you started quickly.
3) Which technology is right for my business needs?
There are many, many blockchain technology options available in the market today — all with their own specific pros and cons, depending on your specific use case requirements (here is a comparison chart of popular enterprise blockchain technologies). One of the most common blockchain technologies available for the last few years is HyperLedger, an open source tool from the Linux Foundation that has multiple use cases and libraries available in the public domain. For those wanting to use blockchain for their supply chains, HyperLedger Grid provides data models, reference models, and smart contract-based business logic. Again, this is where a development partner with blockchain expertise is helpful.
After you have educated yourself on blockchain (or engaged in an advisory session with a blockchain expert) and decided that it does in fact fit the bill, here's a guide on how to implement it: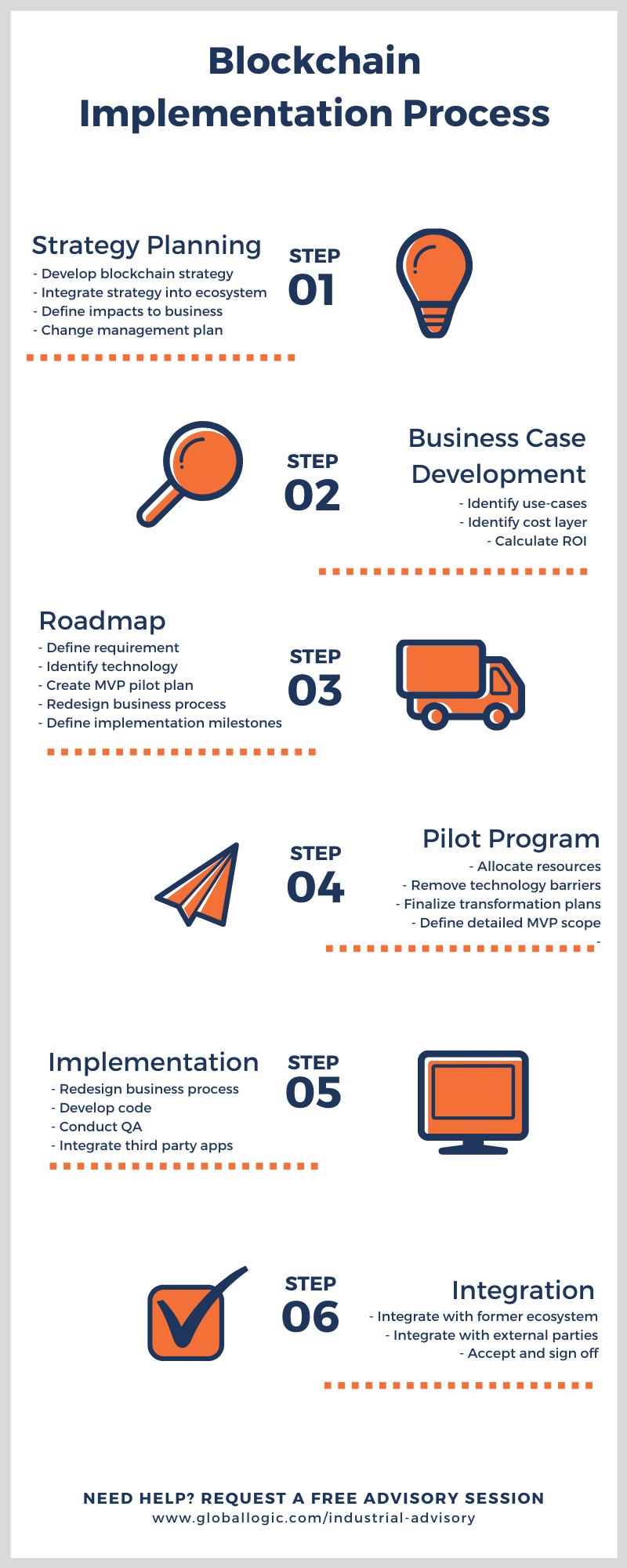 ---
Conclusion
Blockchain is having a major impact on how businesses manage their supply chains and engage in transactions. By automating manual processes and creating a neutral, secure environment for processing data, businesses can trust that their data is safe, reliable, and accessible at all times. To learn more about how blockchain can help you further develop your digital transformation / Industry 4.0 roadmap, we suggest checking out the below resources.
---
Suggested Reading
Forbes | "Bringing Blockchain into Industry 4.0"
IBM | "What are Smart Contracts on Blockchain?"
Enterprise AI | "Blockchain: Streamlining Disrupted Supply Chains During COVID Crisis"
O'Reilly | Getting Started with Enterprise Blockchain
Gartner | Blockchain Platforms Market