Current Trends
From wearables to 3d printers, consumers today have an incredible array of cool gadgets. But not all of these technologies make a mainstream impact on our day-to-day life. However, the smart home looks like it might be very different. 78% of global consumers agree that the concept of smart home technologies is "extremely, very, or fairly appealing", and will have a big impact on their lives. The popularity of Amazon's Echo and Echo Dot during the 2016 holiday season is proof of the technology entering the mainstream. Amazon reported that "Sales of Amazon Echo family of devices up more than 9x over last year's holiday season" and "Echo Dot is the best-selling, most gifted item on Amazon.com".
Most Americans think a home can be considered "smart" if it has smart security, temperature, lighting and safety, according to Coldwell Banker. The GfK global smart home study shows that the following categories resonate most and bring a high level of expectation: security and control, energy and lighting, entertainment and connectivity.
Smart home devices (smart thermostats, lighting controls, motion sensors, etc.) are now owned in 15 percent of households in the US. The ever-expanding adoption and growth of Internet of Things (IoT) will also help lead the United States consumer technology industry to a record-setting $287 billion in retail revenues ($224 billion wholesale) in 2016, according to CTA (formerly the Consumer Electronics Association, the organization that runs the CES show in Las Vegas every year).
Innovation comes from both established and new source players. Some of the companies from the established home market are Honeywell (Honeywell WiFi Smart Digital Thermostat), General Electric (Home Appliances), Lutron (Lights), Philips (Lights). Schlage (Smart lockers), Char-Broil (Digital electric smoker), etc. These companies represent a huge aggregate of experience and are able to transform existing products or create new products through their smart home initiatives.
The "new comers" are driving customer behaviours, technological evolution and building strong ecosystems and platforms. Examples of these companies are Amazon (Alexa Smart Home), Apple (Home Kit), Google (Google Home and Nest), Samsung (SmartThings) and Microsoft (with Cortana coming to IoT devices with the Windows 10 Creators Update, such as the new voice activated speaker by Harman Kardon, coming in 2017).
Attempts to establish semi-vertical SW platforms also come from Facebook, Tencent, Xiaomi, Baidu, Alibaba, etc., and telecom providers such as AT&T (Digital Life) and Comcast (XFINITY Home).
End-to-End Components of the Smart Home Ecosystem
Smart home devices have started penetrating into our lives more and more. The connected home is the foundation upon which lies a cycle of collecting and sharing home data. On one end of the spectrum are the sensors and devices which collect data and provide user interfaces, and at the other end are the local and remote cloud services and analytics that add intelligence and value. The internet gateway is at the core of this connection of devices and services, while a layer of security spans the entire ecosystem.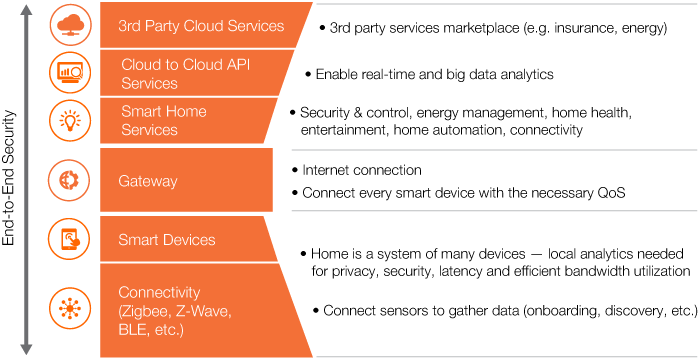 Voice is the Natural UI for the Smart Home
As a design-led engineering company, GlobalLogic has collected enormous amounts of experience driving smart home automation for various customers around the globe from startups to technology leaders. From our experience we've found that while mobile application interfaces are a great tool, it's easier and more natural to communicate and receive feedback by voice while you're at home.
Speaking to a device with AI that understands you and can execute your commands elevates the whole experience to another level. According to Gartner, by 2018 30% of our interactions with technology will be through "conversations" with smart machines. Product leaders at technology and service providers need to invest now to improve currently limited voice interfaces. The future is coming in the form of your home personal assistant, and ultimately speech is going to be the universal interface of the home.
A fantastic example is Amazon Alexa. Alexa drives voice-enabled control of smart home devices (among other skills).  After years of development, Siri, Google Now, and Cortana are other sophisticated personal assistant technologies that are inspiring the smart home ecosystem.
We see many iterations around smart home voice-enabled functions. Mark Zuckerberg has even created a system called Jarvis for his own home. Jarvis is named after Tony Stark's artificially intelligent computer J.A.R.V.I.S. in Iron Man, which stands for Just A Rather Very Intelligent System.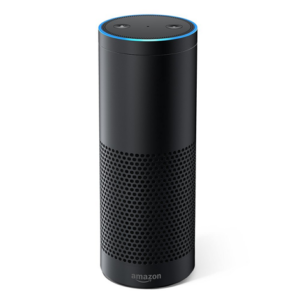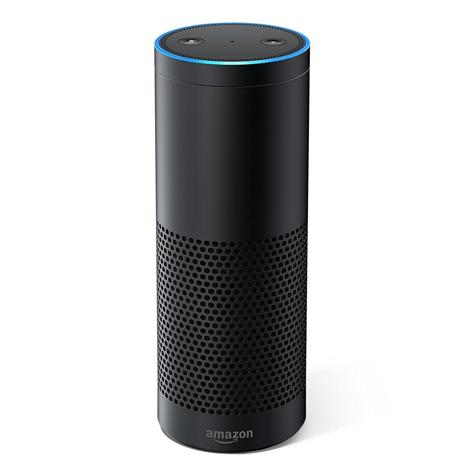 While there is momentum … hurdles remain
AI is an essential part of this human-machine interaction. Consider that even simple functions such as switching on/off the lights might be challenging considering all the ways the command could be given—"Shut off the light in the back bedroom" vs. "Turn of the lamp in the kids' room".
Teaching your smart home assistant to understand different linguistic nuances is an important step in a smooth consumer experience. That's where voice biometrics and intelligence come into play. You should be able to say "Play my favorite song" and have your smart home assistant be able to recognize your voice and know your preferences.
Consider also the possibility of combining a shopping service like Amazon Prime Now, Amazon Echo, and a smart stove, and you can see how the complexity of commands quickly escalates—"I want to order the ingredients for fettuccine alfredo for 4 people. I already have the butter and garlic. Deliver it today before 6 p.m. Start to boil the water 5 minutes before it's delivered." Developers can work with the Alexa Skills Kit to add AI capabilities of understanding the human voice instead of developing their own proprietary AI to support a smart home ecosystem.
To realize the opportunities of the smart home, the main players will need to collaborate and unusual partnerships must be formed. This will ensure disparate devices and services connect together in the background to meet that all-important desire for simplicity. Currently, there is a focus on the "big picture" benefit of the smart home, while steps must be taken to convert the smart home from a "good to have" to an "essential to have".
Ultimately, security and safety are the primary concerns that must be addressed as smart home technologies evolve. For example, smart home voice commands may be able to activate security-related functions, but will require sophisticated technologies for recognition to make sure a recorded voice cannot be used to activate these commands. Soon we'll all have a chance to be like Iron Man with our own Jarvis or "Star Trek computer" on board to manage home, car, and day-to-day activities.